Holyrood recruits marathon hero
Dr Andrew Murray, who ran from Scotland to the Sahara, will promote the benefits of an active lifestyle.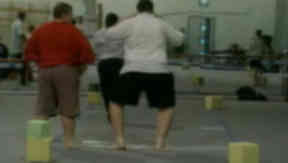 A GP who ran from John O'Groats to the Sahara Desert has been recruited by the Scottish Government as its new exercise czar.
Dr Andrew Murray, from Edinburgh, will embark on a six-month secondment with the Government, starting next week.
In 2011, the 31-year-old, who has previously run in the Himalayas and at the North Pole, ran 2,659 miles - averaging over 34 miles a day - from Scotland to the Sahara, completing the challenge in 77 days.
Dr Murray ran to raise money for the Yamaa Trust, which aims to improve conditions for people living in South Gobi, Mongolia and to raise awareness of the benefits of staying active. More than 1,300 people jogged with him during parts of the run.
In his new role with the Government, which is part of his Sports and Exercise Medicine training, he will look at new ways to promote physical activity including examining the role of GPs and other health professionals.
Dr Murray said: "Becoming, or staying active, is the single best thing you can do for your health. Research has shown that having a low level of fitness is equivalent in risk to having diabetes, smoking, and being obese combined.
"The benefits of staying active are amazing, with evidence consistently showing those that are active live longer, function better, and have a much better quality of life. The Scottish Government have been very proactive in moving this forward working to help Scots become and stay active.
"The key message is to find something you enjoy, it doesn't have to be running. Walking, cycling, dancing, football are just as good, and 30 minutes five times a week is a good start."
He added: "Running to the Sahara was tough. I'm not a natural runner and even got overtaken by a donkey one day so anyone can get fit. The first few days are the hardest but there is so much to gain."
Shona Robison, Minister for Commonwealth Games and Sport, said: "We want to make Scotland a fitter and healthier nation. By increasing levels of physical activity we can make serious inroads into tackling some of the serious challenges facing Scotland's population - not least the health implications that arise from being inactive.
"Andrew's ultra run to the Sahara desert was inspirational and I'm absolutely delighted that he has agreed to become our Physical Activity Champion, working in the Scottish Government for six months to promote the importance of Scots being active for life."