Phone app makes drinkers face effects of alcohol
The Scottish Government is backing the mobile phone utility as part of its campaign to change drinking habits.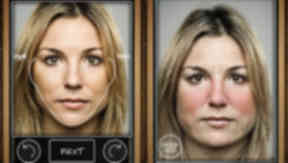 The Scottish Government is backing a new smartphone app which shows how people can exceed the recommended weekly alcohol limit for as little as £3.
The "drinking time machine" app is being distributed for free as part of the Scottish Government's Alcohol Behaviour Change campaign, which is being launched next week.
It uses photo-manipulation technology to predict the cumulative effects of alcohol consumption on a regular drinker's face over 10 years.
Auriole Price, who designed the app, said: "The main aim of the app is to shock people into drinking just a little bit less. We are appealing to people's vanity as the effects of alcohol can include red broken veins on the cheeks, bloodshot eyes, a bloated face and deeper wrinkles."
Health secretary Nicola Sturgeon said the campaign aimed to encourage people to change their drinking habits in order to fend off long-term health problems.
She said: "With Scots drinking more than any other part of the UK, this campaign aims to encourage adults in Scotland, particularly women, to recognise how much they are actually drinking and to help them make small changes to the way they drink which can improve their health and well-being.
"Whilst encouraging people to make better choices about their alcohol consumption are important, I still believe there is more that can be done and that is why I will continue to press the case for minimum pricing.
"Doctors, nurses, the police, academics and politicians, as well as growing numbers of the general population, have now recognised the harm that alcohol is doing to our communities and the benefit minimum pricing will bring - saving lives and reducing crime."
For more information on alcohol, visit the STV Health Centre, brought to you by NHS inform.