Craig Whyte missing as Rangers fans set to pack Ibrox
The club chairman said he was focussed on 'assisting the administrators in any way I can'.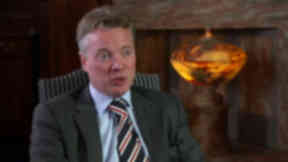 Rangers chairman Craig Whyte will not attend the club's first match since going into administration, which is expected to see fans pack Ibrox to capacity on Saturday afternoon.
Mr Whyte released a statement on Friday in which he signalled his intention to stay away from the Glasgow club's home game against Kilmarnock.
He said his priority is helping the administrators, Duff and Phelps, to conclude the process as quickly as possible.
He said: "While the administrators get on with their work, it is only right that they are given the time and space they require to complete their task.
"Regrettably, I will not be attending Saturday's match against Kilmarnock. Although I would dearly love to be at Ibrox for the game, my priority is, and will continue to be, to assist the administrators in any way I can to bring this process to as speedy a conclusion as possible."
Mr Whyte's statement followed an announcement from the Scottish Football Association (SFA) that it will conduct a full independent inquiry into the activities of Rangers.
The governing body will investigate whether there have been any breaches of its rules and said attempts to obtain information relating to its "fit and proper person" requirement - regarding Mr Whyte - have been restricted by the club's solicitors' failure to share information.
Mr Whyte has insisted he has "absolutely nothing to fear" from any investigation into his takeover of the club.
Duff and Phelps were appointed administrators earlier this week after Her Majesty's Revenue and Customs (HMRC) forced the issue in the Court of Session in a bid to secure payment of £9m in PAYE and VAT, a debt accrued during Mr Whyte's tenure.
The club, who are now 14 points behind SPL leaders Celtic after entering administration and incurring an automatic 10-point penalty, are also awaiting the verdict of a tax tribunal which could cost them £75m.
Today's game at the club's 50,000-seat stadium looks set to be played in front of a full house after supporters rushed to buy tickets, rallying around the club as it was plunged into turmoil.
Commenting on the anticipated capacity crowd, manager Ally McCoist said: "It's fantastic. As pleased as I am, I'm not surprised. I make no apologies for being biased - we've got the best support and the best fans in the world. There are stories coming out about fans abroad buying tickets for people who can't afford them and sending them back to families and things like that.
"The support, who will always be the most important people at this football club, will show their worth. I've got no doubt about that."
RELATED ARTICLES:
Rangers owner Craig Whyte faces SFA and police probes as he insists 'no criminality'
Craig Whyte 'sold Rangers season tickets to Ticketus' in £24m deal