Tax dodging landlords targeted by HMRC
New taskforce formed to bring criminal charges against tax evaders.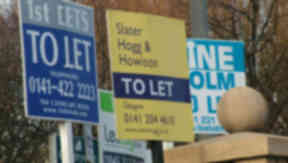 Landlords who dodge tax on income from their properties in Scotland are to be targeted by HM Revenue and Customs.
The tax department said it has set up a taskforce to chase tax-evading landlords.
Similar groups were set up after the UK Government's most recent spending review to clamp down on tax evasion, avoidance and fraud from 2011 and 2012.
The move aims to raise £7bn a year by 2014-15. HMRC is planning 12 taskforces in 2011-12, with more to follow in 2012-13.
Chief Secretary to the Treasury Danny Alexander said: "It is not right that some landlords in Scotland have chosen to deliberately evade the taxes they should be paying. This is not fair on honest businesses and HMRC will come down hard on those who have chosen to break the rules.
"If you deliberately seek to evade tax, HMRC can and will track you down and you'll face not only a heavy fine, but possibly a criminal prosecution as well."
Neil Whyte, a tax partner with accountants and business advisers PKF, said: "This is a further sign that HMRC is extending its reach to cover more and more people who may have avoided tax in the past.
"Some landlords in particular have often felt that their income from rentals and from property sales will be difficult for the taxman to track down.
"However, I expect HMRC is working closely with the land registry and taking an active interest in individuals who own several properties and have sold property in recent years. In particular, cities which have seen an explosion in the number of buy-to-let landlords will be the focus of this investigation with, I would imagine, Edinburgh and Glasgow top of the list.
"The key issue for individuals who feel they may face investigation is to take advice and, if necessary, approach HMRC before they approach you. In this way you may be able to mitigate some of the fallout from past tax irregularities.
"HMRC itself is facing ambitious collection targets so there is every reason to believe that its taskforces will pursue tax evaders vigorously."