Children's book awards winners announced
The awards were voted for by children across Scotland and given out on Thursday.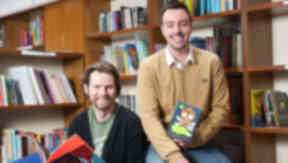 The winners of this year's Scottish Children's Book Awards have been announced.
The awards are voted for by children in Scotland and the prizes were handed out in Edinburgh on Thursday.
A record number of children voted for their favourite, with 23000 young people having their say.
The winner of the 0-7 category was Ross Collins for his picture book Dear Vampa. Ross MacKenzie scooped the 8-11 year category for his debut novel Zac and the Dream Pirates. And the teenager fiction section was won by Nicola Morgan for Wasted.
Chris Newton, from the Scottish Book Trust, said: "The Scottish Children's Book Awards give children of every age the chance to read the most exciting new children's fiction from across the country and, with research into the awards showing a real improvement in participating children's interest in books, we know that the impact lasts long after the votes are cast.
"Hundreds of schools and libraries from literally every corner of Scotland have involved tens of thousands of children in reading and reviewing the shortlisted books, proof of both the eagerness of Scottish young people to make their voice heard and the outstanding quality of the shortlisted books."
Children's Minister Aileen Campbell said: "It's a privilege to take part in celebrating the best in Scottish Children's books and I'd like to congratulate the worthy winners for 2011.
"One of the important things about these awards is that the readers decide who wins, meaning the children themselves are not only encouraged to read, but also to think about the books and share their thoughts by writing reviews."
IN DETAIL