Skippers and fish firm fined nearly £1m for involvement in 'black fish' scam
Skippers and processing plant netted more than £60m of undisclosed fish in 'episode of shame for the industry'.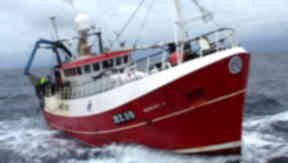 Skippers and a fish processing plant involved in an "episode of shame for company" have been fined nearly £1m.
A total of 27 skippers have admitted their involvement in the 'black fish' scam which netted more than £60m of undisclosed catches.
Three fish processing companies, based in Shetland and Peterhead, have also admitted their part in the scam.
Twenty-one fishermen have previously admitted their involvement in the scheme.
Seventeen of those appeared at the High Court in Glasgow on Friday and were fined a total of £720,000.
The highest individual fine was £80,000, handed down to Hamish Slater, from Fraserburgh.
The number of accused people was so high they could not all fit in the dock and instead sat in the public gallery.
Sentencing the men, judge Lord Turnbull said it was an "episode of shame for the industry" by skippers who were "motivated by greed".
He said: "The system through which this was achieved was both cynical and sophisticated and involved the connivance of a number of different interested parties, some of whom have benefited but have not been prosecuted.
"The extent to which landings of fish were deliberately under-declared was at times truly staggering and in the case of some of the accused concerned, took place continuously over a three-year period.
"In short then, and as was conceded by at least some of those who appeared before me, the motivation for the sustained furnishing of false information was purely financial. Those who were already making a good living saw this as a way in which more income could be generated."
Six others - Stephen Bellany, John Smith, James Smith, Ernest Simpson, Allan Simpson and Oswald McRonald - admitted their guilt at the court hearing on Friday.
They will be sentenced later in the year.
Peterhead-based company Alexander Buchan - which has gone bust since the scam was revealed - was fined £240,000.
Another Peterhead company, Fresh Catch, pleaded guilty to a part in the black fish scam.
Shetland processing plant Shetland Catch had already pleaded guilty to helping fishermen to avoid EU quotas.
Lindsey Miller, head of the serious and organised crime division for the Crown, said: "Organised crime takes many forms. These individuals may not have been involved in drug dealing or prostitution but let us make no mistake that they were involved in significant and serious organised criminality.
"The legislation is there to protect the marine environment for the good of all and to safeguard the future of the fishing industry.
"These men disregarded it for their own financial gain and, in a clear example of successful working between the law enforcement agencies involved, have now been brought to justice and made to pay for their crimes."
She confirmed that investigations are continuing into other landings of fish catches.
Detective superintendent Gordon Gibson, who led the police investigation, said: "The scale of crime committed by these individuals was at a level rarely seen before.
"The conviction and sentencing of these men today hopefully will send out a clear and lasting message that such criminality will not be tolerated.
"It was apparent during our investigations that these individuals totally disregarded any legislation to prevent this occurring and as can be seen from the landings made, they amassed huge sums of money through their own greed and today this caught up with them in a court of law."
IN DETAIL