Free Church: Creationism teaching ban is 'bigoted and anti-religious'
Clergyman brands Secular Society as 'militant atheists' ahead of Holyrood committee meeting.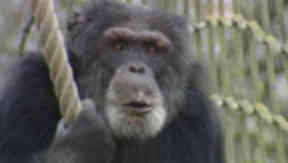 Campaigners bidding to ban schools from teaching creationism in science lessons are "militant atheists" who want to impose their own views on youngsters and discourage questioning, a church leader has claimed.
Reverend David Robertson, who will become the next Moderator of the Free Church of Scotland in May, accused the Scottish Secular Society (SSS) of using the "false bogeyman of creationism" in an attempt to "undermine and attack Christianity in pursuit of their sectarian and bigoted anti-religious beliefs".
The SSS has put forward a petition calling on education secretary Mike Russell to issue guidance to publicly-funded schools and colleges to "prevent the teaching of creationism and related doctrines as viable alternatives to established science".
Creationism is the belief that the universe and living beings originate "from specific acts of divine creation", with the SSS saying last year that teaching this "and the denial of evolution has been found in three separate Scottish schools in a very short period of time".
This, it argued, raises concerns that "such views and excesses may be endemic in the system".
The SSS, whose petition would allow creationism to be discussed in religious education classes, is to make its case to MSPs at the Scottish Parliament's Public Petitions Committee next week.
But ahead of that, Rev Robertson claimed it is seeking to "impose an atheistic philosophy on children".
The Dundee-based preacher said: "The Scottish Secular Society is so terrified that children might be infected by the idea that God the creator actually had something to do with creation that they are asking politicians to decide what should be taught in science lessons.
"Could we not have a more tolerant and Christian view of science? And could we not encourage children to think about the issues for themselves, rather than just tell them what to think?
"But here we have militant atheists using science as a kind of Trojan horse to get their philosophical and religious views taught and to discourage questioning."
'Freedom of belief'
Both SSS chair Spencer Fildes and Professor Paul Braterman, the group's scientific adviser, are due to appear before the committee on Tuesday.
In a submission to MSPs, Mr Fildes argued that nothing in the petition would prevent the discussion of creationism in its "proper place as part of the study of ideas".
He also claimed that it did not "infringe on individual freedom of belief".
The SSS said at the moment, the Scottish curriculum does not specifically make clear that "teaching creationism as an alternative to the overwhelming scientific consensus on the origins of the universe, or in any context as a viable alternative to accepted science, is unacceptable".
But it stated: "This is not the case in England and Wales, where the Department for Education has stated that 'We do not expect creationism, intelligent design and similar ideas to be taught as valid scientific theories in any state-funded school'."
Mr Fildes said the SSS had "no wish to restrict the discussion of creationism as part of the study of religious or other ideas".
But he argued: "Pupils must be taught about evolution as firmly based science, and not presented with 'creationism' as scientific fact or as a valid alternative to evolution.
"This guidance is not intended to inhibit discussion of beliefs about the origins of the earth and living things, such as creationism, in religious education and other cultural studies, as long as they are not presented as valid alternatives to established science."