Donald Trump could give evidence on wind farms before Holyrood committee
Murdo Fraser MSP, who chairs the Economy, Energy and Tourism Committee, is set to meet with representatives of the billionaire to discuss a possible appearance.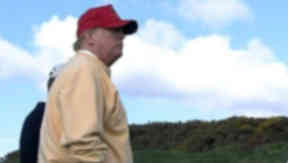 US tycoon Donald Trump looks set to come to Holyrood to air his grievances about a proposed wind farm near his luxury golf resort.
A planning application for an 11-turbine wind farm off Aberdeen Bay was submitted to Marine Scotland in the summer of 2011. A decision is expected to be made later in 2012. The businessman has halted work on his nearby resort until the decision is made by the Scottish Government.
Mr Trump told a television interviewer on Sunday that he would be "honoured to give evidence to the Scottish Parliament Energy Committee if invited".
Speaking from New York, he said: "I have been told by our attorneys, our lawyers, that we can bring a very large lawsuit and probably win the lawsuit based on the harm that these horrible things will do to Scotland. I've been told we have a very good lawsuit, and we can delay it for years to come. I feel betrayed. I had a very good relationship with Alex Salmond, and I like Alex Salmond, but I can't let a thing like this happen."
Murdo Fraser, convenor of the Economy, Energy and Tourism Committee, confirmed he was set to meet with representatives of the tycoon to discuss the possibility of Mr Trump giving evidence.
Mr Fraser said: "We are aware of Mr Trump's interest in giving evidence to the committee. The committee will be meeting next week to talk about which witnesses to call to give evidence, and at that point we will take a decision on whether we wish to hear from Mr Trump. In the meantime, vice-convenor John Wilson and I are meeting with Trump representatives on an informal basis this coming Tuesday to discuss in more detail with them about Mr Trump giving evidence and what that might entail."
The Conservative MSP stressed that the committee was conducting an inquiry into renewable energy, but indicated that members might also wish to ask questions about Mr Trump's wider activities in Scotland as part of their wider remit on economy and tourism. He added: "That would be a matter that members of the committee will have to decide."
Mr Trump has previously called the turbines "ugly monstrosities" and "horrendous machines", and has decided to bankroll an anti-wind farm campaign "to save Scotland".
Deputy leader of the SNP's Westminster group Stuart Hosie said he would "probably doubt" Mr Trump's lawsuit would have any traction.
He said: "There is no decision made on the deployment of the facility on the Menie estate. That decision will be taken in due course and I'm sure it will be taken absolutely properly. I think the key thing to remember here is that this facility is a test facility. It's 11 turbines, and I think it's about three and a half kilometres off the coast. It's not a full scale wind turbine array. It will be a speck in the ocean somewhere miles away."
Mr Hosie called Mr Trump "a very colourful character", adding: "If Donald Trump isn't happy I'm sure he will do whatever he feels is necessary, but so long as the planning process here is done absolutely scrupulously, as it will be, I'm not sure where Mr Trump will go with it."
Mr Trump is a businessman, television personality, and controversial political figure in the United States, where he recently withdrew from the race for the Republican Party presidential nomination. He had attracted criticism for his brash rhetoric and for calling into question whether President Barack Obama was born in the United States.