Diabetic children and teenagers fitted with insulin pumps
NHS will supply devices for under 18s with type 1 diabetes in Scotland to make managing their condition easier.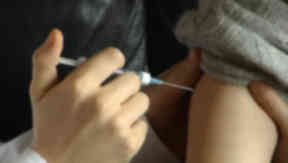 Diabetic children and teenagers are to be given insulin pumps which will make their condition easier to manage.
The Scottish Government announced on Monday it will provide at least £1m of funding for NHS boards to provide the devices for all eligible under 18s with type 1 diabetes.
The pumps are attached to the person's body and are programmed to administer the correct amount of insulin, removing the need for insulin injections.
The funding announcement follows a pledge by Health Secretary Nicola Sturgeon at the SNP's conference in October last year.
She promised that by 2013, 25% of all type 1 diabetes sufferers under the age of 18 would have access to insulin pumps, while over the next three years the total number of pumps available to sufferers of all ages will be tripled.
Ms Sturgeon said: "Insulin pumps mean freedom from having multiple insulin jags a day - giving Scotland's youngest diabetics a normal childhood.
"By the end of March 2013, this treatment will be made available to the 480 children and teens struggling with type 1 diabetes who could benefit from it.
"Over the next three years, NHS boards will also increase the number of insulin pumps available to all Scots to 2,000, tripling the current amount.
"Diabetes is a growing problem for Scotland - around ten per cent of overall hospital expenditure relates to diabetes treatment and complications. Not dealing effectively with diabetes can cause long term health problems and we need to make sure that the youngest people with type 1 diabetes get the best possible treatment as early as possible."
Five-year-old Daisy Slatter is the youngest person in Scotland to receive a pump. She was diagnosed with type 1 diabetes in November 2007 when she was 18 months old.
Her father Tim Slatter said: "After 11 months of blood sugar highs and lows, and jags coming from all directions we finally embarked on insulin pump therapy on 29 September 2008. It really did help to stabilise Daisy's blood sugar levels and was noticeable within hours of the pump first being fitted."
Jane-Claire Judson, national director of Diabetes UK Scotland, said: "Insulin pumps are one of the most significant advances in medical technology, freeing people from the daily challenges of multiple injections, helping to reduce the risks of complications, raising quality of life and freeing up NHS time and resources.
"This small piece of equipment, the size of a mobile phone, can be life changing for people with type 1 diabetes. This is why access to pumps is such an important issue for Diabetes UK Scotland and, more importantly, for those living with or supporting others with diabetes."
For more information on diabetes, visit the STV Health Centre, brought to you by NHS inform.