Donald Trump pledges to make Prestwick Airport 'really successful'
Tycoon announces partnership between Trump Turnberry resort and Ayrshire hub.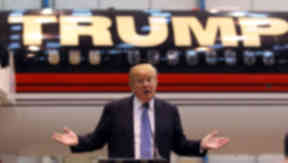 Billionaire tycoon Donald Trump has pledged to make Prestwick Airport "really successful" as he announced a partnership with the Ayrshire hub.
The Trump Organisation has chosen Prestwick to service the nearby Trump Turnberry resort, in which the businessman plans to invest £250m.
The airport will be the Scottish base for all Trump Aviation Operations, including Mr Trump's private Boeing 757 and Sikorsky 76B helicopter.
Prestwick Airport is continuing to run at a loss after being bought over by the Scottish Government in 2013 in a last-ditch effort to keep it open.
A vision document published in October recommended that the airport should maintain its status as a gateway to Glasgow and work towards becoming the UK's first spaceport.
Now, Mr Trump hopes that tourists heading to Trump Turnberry will use the airport, flying in from around the world on private planes.
The US businessman said: "We are going to have planes coming in from New York and all over, very high-level planes like Gulfstreams and Bombardiers.
"We are going to make this really successful. You are going to get a lot of business."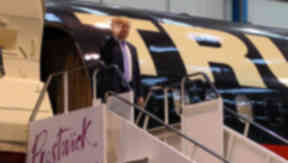 Speaking at a press conference at the airport, he said they expect to bring in "hundreds" of flights.
The tycoon also outlined some of his plans for the resort, revealing that he intends to invest about £250m to transform it - more than the £100m figure initially mentioned.
A major renovation of the hotel will take place, with a new ballroom, while a second golf course will be created and improvements made to the existing Ailsa course.
Mr Trump hopes the resort will be a big draw for visitors.
He said: "You have something in Scotland that nobody has: you have pedigree when it comes to tourism and golf.
"Golf is booming in Asia, they all want to come to the home of golf. You have something that no other country has to that extent."
Mr Trump, chairman and president of the Trump Organisation, added: "We are thrilled to be partnering with Glasgow Prestwick Airport.
"They have a tremendous facility with a unique rich history.
"Their expert team and state-of-the-art operation is perfectly aligned with our global client and member base that travel frequently to Scotland and to Trump Turnberry."
As part of the partnership, Trump and Prestwick will be offering transfers via the Trump helicopter, executive cars or private hire to the resort, which is about 20 miles south of the airport.
Iain Cochrane, chief executive of Prestwick Airport, said: "We are very excited to be working closely with the Trump Organisation going forward and are delighted that Prestwick has been chosen to be the European base for the Trump Sikorsky helicopter.
"Forging a new partnership between the airport and the Trump Organisation will undoubtedly be mutually beneficial to both parties. However, it will also bring significant opportunities for the region as more inbound visitors travel to visit the legendary Trump Turnberry Resort."