Cyclist's death leads to calls for nationwide safety campaign
After the death of Brian Simons on Monday, campaigners are calling on the government to do more.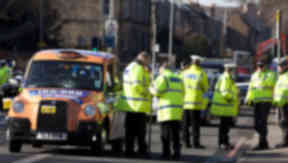 The death of a cyclist on Edinburgh's roads has led to calls for a nationwide campaign to improve safety.
Brian Simons, 40, died when he was hit by a taxi during rush hour in Edinburgh on Monday.
The incident has led to calls for better safety on the roads for cyclists and more education of road users.
Green MSP Alison Johnstone said more needs to be done to accommodate cyclist on the roads.
She said: "It's all very well having off-road lanes but the reality is often you need to share road space with other users. We need to take more action to look at segregated pathways or shared pathways when it's appropriate and introduce substantial training for everyone. I think that would be a huge step in the right direction."
Campaigners have said we should be looking to European countries for advice on how to plan for cyclists.
Ian Maxwell from Spokes said: "In places like Amsterdam and Copenhagen there is space set aside for cyclists on all main routes so it's easy to get from A to B by bike.
"The cyclists know where to go, the motorists know where you are and they have built up a cycling culture over many decades."
The City of Edinburgh Council said they are doing all they can to improve safety in the capital and are investing nearly £750,000 in the cycling budget.
Transport convener Cllr Gordon Mackenzie said: "We have got safety lenses for HGV drivers to cover the blind spot, we are improving the lanes and the white boxes to try and make it clear where cyclists can go and drivers should keep away. We've got training for cyclists and targeted training for professional drivers where we can."