Drivers quizzed after man gunned down on own doorstep
Strathclyde Police stopped more than 750 people in a bid to trace witnesses to the murder of Brian Harkins.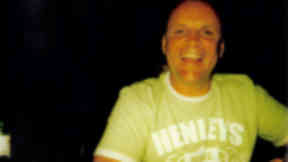 Police investigating the murder of a man who was gunned down on his own doorstep have stopped and questioned more than 750 people.
Brian Harkins, 45, was shot on his doorstep in Rutherglen, South Lanarkshire, on the morning of Wednesday, March 7.
One week on from the incident, officers quizzed 768 people outside the victim's home on Westmuir Place, which is near to Prospecthill Road.
Officers spoke to drivers, bus passengers and pedestrians in an effort to find more information about what happened between 7am and 9am on Wednesday, March 14.
Detective Chief Inspector Kenny Graham, senior investigating officer, said: "I am very pleased with the response we have had from the public.
"The operation has given my officers several additional lines of inquiry. Each and everyone of these will looked into in detail."
Detectives say Mr Harkins was the intended target of the attack.
Anyone with information that may help the police investigation is asked to contact the incident room on 0141 532 5415.