Train disruptions after overhead power line collapses
Commuters face misery as services are delayed and cancelled.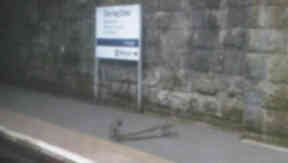 Rush-hour train journeys are being disrupted after part of an overhead power line collapsed at one of Glasgow's busiest stations on Wednesday.
The power line collapsed at Charing Cross causing severe disruptions between Helensburgh and Edinburgh, Milngavie and Edinburgh, Balloch and Airdrie and between Dalmuir and Springburn.
And no trains are leaving or coming into Queen Street low level, Charing Cross and High Street.
Replacement bus services are in place and passengers are being asked to check the Scotrail website for service information. 
Network Rail confirmed that they had to evacuate dozens of passengers from Charing Cross station at peak time just after 5pm on Wednesday when the alert was raised.
Eye witness Emma Clifford, 23, was unable to board a train at the station. She said: "I was trying to get to the platform and I saw lots of people asking the ticket man questions.
"He was trying to keep everyone calm but he said it was a safety issue because the power line was lying down at the track.
"There was an announcement saying to everyone to get out and we didn't know what to do because there were no alternative transport options. Everyone was angry."
Another passerby, who asked not be named, said: "I was on the train and saw a cable on the east bound track had fallen down.
"It was suspended about a meter away from the track, hanging there."
Network Rail were unable to confirm how long the line would be out of action or what may have caused the incident.
A spokeswoman said: "Overhead wire problems are causing disruption near Glasgow Queen Street Low Level.
"Charing Cross station is currently closed. For live information people should check national rail enquiries."
Travellers have been advised to make alternative arrangements or to use alternative train services operating between Glasgow Central Low Level and Dalmuir and Milngavie.
A ScotRail spokesman said: "We apologise to customers for any inconvenience caused by circumstances beyond our control."
A bus service has been put on between Bellgrove and Glasgow Queen Street and also between Bellgrove and Glasgow Central to connect with alternative train services.