MSP argues reduced 20mph speed limit should be standard on residential streets
Alison Johnstone called for the restriction as part of a wider review of speed limits across Scotland.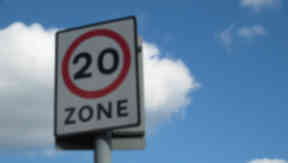 A reduced 20mph speed limit should become standard across residential streets to improve safety for cyclists, according to a Green MSP.
Alison Johnstone called for the restriction as part of a wider review of limits across Scotland.
If follows a spate of accidents, particularly in Edinburgh, and a media campaign to highlight dangers faced by cyclists.
Ms Johnstone raised the issue in a debate at Holyrood on Thursday, drawing attention to research that shows 20mph zones can lead to a 60% drop in injuries and a 40% drop in child accidents.
The Lothians MSP said: "We need to move to a situation where 20mph is the norm in residential areas. I'd also like to see a broader review of speed limits in both urban and rural areas.
"Recent accidents have happened on 40mph roads, but these are roads with parked cars, with pedestrians, traffic islands, cyclists. We need to ask why these are 40mph roads."
Consideration should also be given to reducing the limit from 60mph on some rural roads, she said.
Ms Johnstone also wants every child to be trained to cycle safely on roads.
She continued: "We must do all we can to build more mutual respect and tolerance on our roads. We need to make sure this is a safe space.
"Education and awareness-raising is essential. I urge the government to develop more resources for cycle awareness training for all professional drivers, for fleet drivers."
A rally on April 28, called Pedal on Parliament, will see cyclists gather in Edinburgh in the hope of persuading politicians to make roads safer.
The group issued an eight-point manifesto which includes calls for more funding and slower speed limits where people live, work and play.
Transport Minister Keith Brown welcomed the debate, adding: "Cycling should be safe, it should be healthy and it should also be a realistic choice as a mode of transport.
"There has been a recent focus on cycling, not least because of the four fatalities in Edinburgh in the last 12 months."
Mr Brown took part in a cycling summit last week where he discussed schemes such as special traffic lights and 20mph zones. He convened the event after 40-year-old Bryan Simons became the fourth cycling fatality in Edinburgh in a year when he was killed earlier this month.
Labour MSP Elaine Murray urged the Government to look at the guidance issued on the implementation of mandatory 20mph limits.
She said: "Reducing traffic speeds in residential areas benefits pedestrians and other road users. The conventional way of doing this is to use road humps.
"However, speed humps can actually cause a hazard to cyclists. Cars weave around the bumps, stationary cars are sometimes parked on the bumps, and as cars move around them they create potholes.
"However, 20mph limits are mandatory and are advertised and policed in the same way as any other speed limit. They do not require physical deterrents but they do require policing."
Ms Murray said local authorities and police forces were sometimes reluctant to introduce mandatory limits because they did not want to have to police them.
Conservative MSP John Lamont said the safety of cyclists needed to be improved in order to encourage more people to use bikes as a mode of transport.
He said: "One training organisation said that two hours of training costing £70 would transform the safety of cyclists on the road."