Tanker drivers rule out strike action as motorists still queue for fuel
Union confirms that fuel deliveries will take place as usual over Easter as talks continue.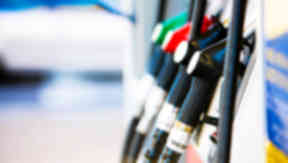 Tanker drivers have voted not to strike as motorists continue to form long queues at petrol stations.
Unite has ruled out industrial action by drivers over Easter to focus on talks, the union said on Friday.
The union represents around 2000 fuel delivery drivers. Unite and the seven distribution companies involved in the dispute are in contact with the conciliation service Acas, but no substantive talks will be held until next week.
Diana Holland, Unite assistant general secretary, said: "We will not be calling Easter strike action as we focus on substantive talks through Acas. We do still retain the right to call strike action for after Easter should those talks breakdown.
"It should be stressed that what we are seeking is reasonable and no more than what is in place elsewhere in the industry. There have been minimum standards governing the offshore oil industry since 2000 covering health and safety, training and terms and conditions.
"This is not a political dispute. It is an industrial dispute and the government's recent rhetoric will not help us achieve a negotiated settlement. The government must set aside its political objectives and work with us, the employers, retailers and oil companies to achieve an outcome that is good for the industry and the country."
Across the UK on Thursday, petrol sales shot up 170% and diesel by 80% as drivers stocked up. However, the impact on Scotland has been considerably smaller, with a 10% increase.
Finance secretary John Swinney said on Friday evening that 97% of petrol stations had fuel.
 "The clear information emerging from today's resilience meeting is that there is more than enough fuel in the system to meet normal levels of demand," he said.
"There is still every reason to believe that industrial action can be averted as Unite and hauliers sit down to talks with ACAS next week."
Earlier in the week, Cabinet Office Minister Francis Maude faced criticisms for suggesting drivers should fill up any spare jerry cans with petrol and keep them in garages.
Scottish Secretary Michael Moore also advised motorists to top up their cars and keep their tanks "reasonably full".
Transport Minister Mike Penning admitted later that Mr Maude had made a "mistake", after fire safety experts warned of the dangers of storing any petrol.