Whisky festival appeals to 'trendy' audience
The Inverness Whisky Festival hopes to attract newcomers to their events and the national drink.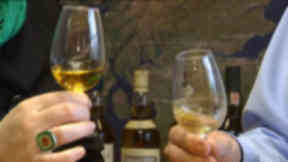 **Organisers of a weekend devoted to Scotland's national tipple are hoping their "trendy" take on *aqua vitae *will prove a hit with connoisseurs and newcomers alike. **
The Inverness Whisky Festival, which launched on Friday evening, opened with a pub-crawl that doubled as a walking tour around the city.
Events planned for Saturday include live music and sampling of up to forty different drams at Bogbain Farm.
Yvonne Murray, spokeswoman for the festival, said: "Tomorrow from 12-5pm we've got about 15 different distilleries bringing 40 different malts, and we've got food, live music, live traditional music, Maya chocolates, we've got furniture made out of whisky barrels which is absolutely amazing, and Waterstones are also coming, because our festival ambassador this year is Brooke Magnanti, otherwise known as Belle de Jour."