£1.5m cash boost for young people with diabetes
The money will go towards providing nearly 500 youngsters with insulin pumps.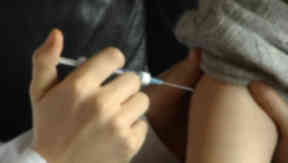 An extra £1.5m will provide more youngsters living with diabetes with "life-changing" insulin pumps.
Health Secretary Nicola Sturgeon said the cash would help ensure a pledge to make the devices available to 480 children and teenagers with type 1 diabetes is met by the end of March 2013.
The pumps are attached to the person's body and are programmed to administer the correct amount of insulin, removing the need for insulin injections.
Ms Sturgeon said they could help give youngsters with diabetes a "normal childhood".
The charity Diabetes UK Scotland said access to insulin pumps had been "shockingly low" for too long.
But it described the £1.5m - which comes on top of £1m announced earlier in 2012 - as "great news".
Almost 12% of all those with diabetes in Scotland have the type 1 condition of the disease.
The number of people who suffer from this is on the rise, having increased from 26,294 in 2006 to 27,910 in 2010. This includes 2,872 under-18s who have type 1 diabetes.
Teenager Rebekah Sutherland, from the Grampian region, is one of those who has already been fitted with an insulin pump.
The youngster, who was diagnosed with type 1 diabetes just weeks after her third birthday, got the device in March 2010 when she was 14.
It has freed her from having to inject herself with insulin eight times a day and she told how she was "proud" of her pump, even wearing it over her ballgown at a charity event.
She said: "Before I was given my pump my daily routine was really rigid and my injections and meals had to be at set times.
"What a difference my pump has made. I can even enjoy a lie-in, which was unheard of when injections dictated my life."
Rebekah went on: "Injecting meant I couldn't miss a meal, which isn't always easy.
"About six months before I got my insulin pump I caught a winter vomiting bug. Despite being so sick, I had to continuing eating, which was horrible."
The teenager added: "I'm proud of my pump. I never hide my pump under my clothing, it's always clipped to my waistband.
"I used to be a competitive swimmer and wore it all the time during training - I just clipped it onto the back of my costume.
"At the recent Juvenile Diabetes Research Foundation Ball, I even clipped it to the back of my ball gown. My insulin pump is part of me."
Her mother Gwen told of the "enormous difference" the insulin pump had made to her daughter's quality of life.
She said: "Although our family's daily routine is still dominated by diabetes, life is much more flexible when compared to the years of life with numerous daily insulin injections."
Ms Sturgeon said: "For young people with type 1 diabetes, having to administer regular insulin jags can mean they are not able to live life to the fullest. Insulin pumps make it easier to manage diabetes and can help give these children a normal childhood.
"I have already given my commitment that by the end of March 2013, pumps will be made available to the 480 children and teens struggling with type 1 diabetes who could benefit from them.
"I am now pleased to announce this extra support to ensure this important pledge is delivered."
Jane-Claire Judson, director of Diabetes UK Scotland, said the total £2.5m funding from the Scottish Government meant that "every health board in Scotland should now be in a position to deliver pumps to people with Type 1 diabetes who need them".
She added: "For far too long access to insulin pump therapy across Scotland has been shockingly low but, with the support of people living with diabetes, the Scottish Government has at last found a way to make real progress.
"This announcement is great news for people with type 1 diabetes who will soon start to see a real improvement in access to this life-changing therapy."