Oil contamination fears following warehouse blaze
Firefighters warn that oil may seep into nearby drains.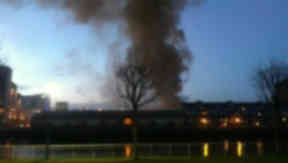 Firefighters fear that oil from the site of a warehouse blaze could contaminate drainage systems.
Strathclyde Fire and Rescue said on Saturday that there is a threat of oil seeping into nearby drains following Friday night's  fire in Lancefield Street, in the Finneston area of Glasgow.
The Scottish Environment Protection Agency is now monitoring the situation and inspectors from Glasgow City Council's building control team are also at the scene.
More than 30 firefighters tackled the fire at  the Alfa Wholesale Grocer which broke out just after 8.30pm on Friday and was only brought under control at around 3.20am on Saturday.
An investigation is underway into the cause of the fire, which created plumes of black smoke seen billowing from the premises. 
Water was still being sprayed over the warehouse from a high hose reel jet on Saturday morning and a large pillar of smoke continued to rise from the building.