Disney film will be released early in Scotland
Brave, from the makers of Toy Story, tells the story of a mythical Scottish princess.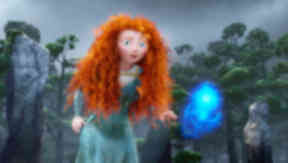 The Disney Pixar film Brave will go on general release in Scotland two weeks before the rest of the UK.
The animated tale, by the creators of Toy Story and Finding Nemo, will go on show at cinemas north of the border on August 3.
It will then go on release nationwide on August 17.
The film will also receive its European premiere in Scotland when it closes the Edinburgh International Film Festival on June 30.
Set in a mythical Scotland, Brave features the voices of stars including Billy Connolly, Emma Thompson, Robbie Coltrane and Kelly Macdonald.
It tells the tale of Merida, a skilled archer and the impetuous daughter of King Fergus, who unleashes chaos in the kingdom when she defies an age-old custom.