Scotland's oldest couple celebrate 75 happy years
Susan and Robert Erskine speak to STV News about the secret of an enduring and successful marriage.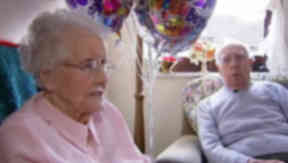 Scotland's oldest couple have revealed the secret of a long and happy marriage: honesty.
Susan and Robert Erskine spoke to STV News about their 75-year relationship.
Asked what had kept them so close for so long, Susan, who is 100, said: "To bond together and see that everything is truthful. Not to hide anything. We tell each other everything."
The couple, who live in Bo'ness, have not spent a day apart since Robert's three-and-a-half-year posting to Iraq during World War II.
Even when he was packed on a train, bound for the battlezone, Robert, now 101, found an inventive way of letting his pregnant wife know he was being posted overseas.
"I put two or three coppers in an envelope and flipped it out the window at the station," Robert explained. "A porter must have picked it up."
Surprisingly, the billet doux eventually reached Susan and she found the gesture very romantic.
The couple, who have had three children, six grandchildren, and six great-grandchildren, met at a church dance when Robert asked Susan join him on the dance floor.
She recalled: "He wasn't a good dancer. Not as good as me! But I knew he was good, he was a decent chap, I could see it, and that was all I wanted."
The Erskines have some advice for young couples thinking of marriage. They counsel not to rush into nuptials and to avoid debt at all costs.