Homelessness report reveals 'vicious circle' and lack of help
Two thirds who became homeless under age of 16 face the problem five or more times, says charity.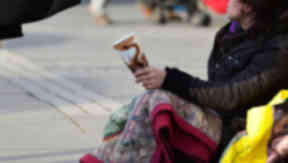 Half of all homeless people first take to the streets under the age of 21 — with most suffering the experience more than once because of lack of help, according to a new report.
A study of 480 single homeless people for Crisis found that a third were under 18 when they first became homeless.
Two thirds of those who became homeless under the age of 16 go on to face the same problem five or more times, the research found.
The report, covering Scotland, England and Wales said people who become homeless at a young age often face a "vicious cycle" that leaves them vulnerable to violence, substance abuse and problems with mental and physical health.
The charity, which opens centres on Tuesday for homeless people over Christmas, called for more political action to tackle the problem.
Jon Sparkes, chief executive of Crisis, said: "Homelessness is a horrifying experience for anyone, but it is especially damaging for young people, who often become homeless again and again because they can't get the help they need. This is a tragic waste of young lives. We need to make sure people can get help at an early stage.
"Everyone deserves a second chance. Yet the sad reality is that homeless people who ask their councils for help are being turned away to sleep on the streets. That's why Crisis is calling on party leaders to review the support given to single homeless people under the law. In this day and age, no one should face the horrors of the streets."
The study found that three out of five first become homeless after a household dispute, while a similar number of homeless women have suffered violence or abuse from a partner.
A Department of Health spokesman said: "Improving the health of homeless people and tackling the health inequalities they face is a Government priority. That is why we are spending more than £50m to increase access to primary healthcare services, improve hospital discharge arrangements and refurbish accommodation facilities for the homeless."