Hacksaw and knives among weapons brandished by pupils in schools
The number of incidents involving a weapon increased slightly in 2013/14, up to 181.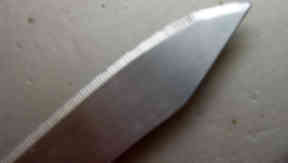 A hacksaw, kitchen knives and BB guns were among the items brandished by pupils as weapons in Scotland's schools over the past two years, research by the Conservatives has shown.
Lego, Mr Men toys and even maracas were also among the haul confiscated in schools after pupils either used or threatened to use them as weapons.
The number of incidents involving a weapon increased slightly in 2013/14, up to 181 from 174 in 2012/13.
Other items included an electric shock lighter, a pool cue, planks of wood, a large magnet and a bamboo cane.
Some of the items were confiscated from primary pupils while more of the serious weapons were removed from youngsters up to the age of 17.
The Tories used Freedom of Information to gather information on weapons in schools, with 17 out of 32 local authorities providing a response.
The party's education spokeswoman Mary Scanlon said: "This is a shocking list of weapons, ranging from the very dangerous to the ridiculous.
"Parents will be extremely concerned to read some of the examples set out here, not least those weapons that can cause serious and even fatal injury.
"Teachers should not have to work in this kind of environment, and many of these incidents will have been disruptive not just to individual pupils, but entire classrooms.
"We need to make sure those capable of getting their hands on such dangerous items are taken out the classroom for the safety and welfare of other children who just want to learn.
"I hope the Scottish Government keeps a close eye on these examples and ensures the trend begins to move downwards in future years."
A Scottish Government spokesman said: "We are committed to educating young people on the dangers and consequences of carrying dangerous weapons, and have invested heavily in various violence reduction measures with young people across Scotland through schools, stakeholders and local authorities.
"This includes the delivery of educational programmes such as No Knives Better Lives, Medics Against Violence and Mentors in Violence Prevention, all of which aim to educate young people on the dangers and consequences of getting involved in violence and which help shape positive attitudes and life choices.
"Our general approach in terms of tackling violent crime is working and this is in evidence through recent statistics showing that violent crime decreased by 10% between 2012-13 and 2013-14 and is now at its lowest level for 40 years."