Sir David Murray to reveal Rangers takeover documents after court order
Lawyers for Duff and Phelps were granted a request by a senior judge.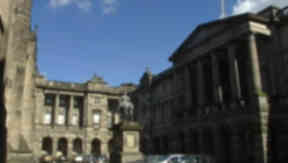 Sir David Murray's group is to release documents concerning the takeover of the club after Rangers administrators obtained a court order.
At the Court of Session in Edinburgh on Wednesday, Duff and Phelps secured the order for the recovery of documentation under insolvency legislation.
The administrators'counsel Susan Ower told Lord Hodge: "These documents which the administrators seek to recover are sought to facilitate the administrators investigation into the circumstances of the takeover of the company."
The material sought included all letters, faxes, filenotes and emails between the Murray firm and Craig Whyte's solicitors Collyer Bristow, who are now being sued by the administrators at the High Court in London relating to the sale of 85.3% of the share capital in Rangers in May 2011.
Ms Ower said lawyers had written to the Murray company which had said it had no objection to providing documents but was concerned over confidentiality clauses. Therefore, a court order was being sought.
A spokesman for Sir David Murray told STV News: "Under the share purchase agreement, David was not legally able to provide the copy. We urged the administrators to go to court so this order could be made. David continues to help the administrators in any way he can."
Ms Ower said Mr Whyte had also been informed by email over the move. Lord Hodge asked if there had been any response by Mr Whyte or others informed but was told by Ms Ower: "None at all."
The judge said: "It is clear that, speaking loosely, the vendors at Rangers, whose solicitors have the documents, are content that the order be made, but need a court order because of the terms of the share purchase agreement."
Lord Hodge said he was prepared to grant the order after a brief hearing at which only the administrators were legally represented. Mr Whyte bought the controlling shares in the Ibrox club for £1 before he put the club into administration in February.
The court hearing follows a tumultuous day at Ibrox on Tuesday, where the Duff and Phelps said the Scottish Football Association's decision to fine the club and ban it from registering players for the next 12 months could have a "very detrimental effect" on the sale of the club.
American businessman Bill Miller and the Blue Knights consortium, led by former Rangers board member Paul Murray, are in the running to take over the reins at Ibrox.
Mr Whyte, in an interview with STV News on Tuesday, reiterated that the club was in a financial mess before he arrived and said he has not made the situation worse since he became the owner of the former Scottish Premier League champions.