Watchdog bans bar leaflets encouraging students to have sex with strangers
Aberdeen's Pearl Lounge sent out leaflets likely to cause 'serious or widespread offence'.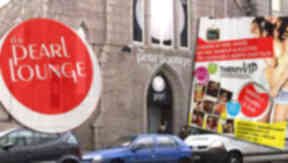 The advertising watchdog has banned leaflets from an Aberdeen bar which encouraged students to go home with a stranger.
The Pearl Lounge bar leaflet advertised a Valentines F***| Fest on April 16, telling readers they could "go home with a stranger".
The flyer was distributed around Aberdeen University campus, promising students they could "see more f***|ing than David Attenborough could handle!".
The leaflet was reported to the Advertising Standards Authority (ASA) by Aberdeen City Council and a member of the public.
They complained that it was offensive, because of sexually explicit material, and also irresponsible because it encouraged potentially unsafe practices.
The ASA has upheld two complaints against the Pearl Lounge, and has ordered that the advert be banned.
The watchdog said that the swear words, despite the use of asterisks to mask them, was "likely to cause serious or widespread offence to some readers".
It was also ruled that an encouragement to go home with a stranger was "socially irresponsible" and breached advertising codes.
Bar owners told the ASA they did not support the message on the leaflet, and the promoter had not intended to cause offence, but meant it as a "tongue in cheek" promotion aimed at students.
The event had been cancelled and all promotional material withdrawn.
They also told the ASA that they had worked closely with the council and student bodies to make sure similar "risky" promotions did not run again, and all future material was proof-read by the Pearl Lounge owners.
A spokesman for Aberdeen City Council said: "We welcome the ASA decision and have worked closely with Pearl Lounge to ensure similar promotions do not run again and that all future material for external events is proof read by the venue."