Members of SFA panel receive threats after Rangers punishment decision
The Scottish FA said it has contacted Strathclyde Police after the details of the anonymous panel were published on webistes.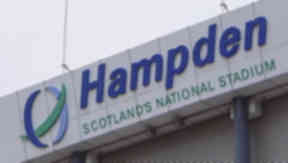 The footballing authorities have said they are "deeply concerned" for the safety of the anonymous tribunal that decided punishment for Rangers' rule breaches.
On Wednesday night the Scottish FA released a statement after details of the members of the panel appeared on websites following the decision.
The governing body has called in Strathclyde Police in response to "abusive and threatening communication" received by the three panel members who were appointed on the condition of anonymity.
In a statement, the SFA also said its directors had received abusive emails after their details appeared on some websites on Wednesday.
A Scottish FA spokesman said: "We are deeply concerned that the safety and security of judicial panel members appointed to a recent Tribunal has been compromised by a wholly irresponsible betrayal of confidential information.
"The judicial panel consists of volunteers from across the spectrum of sport and business in Scotland. They are appointed on the basis of anonymity yet all three panel members have reported intrusion into their personal and work lives, including abusive and threatening communication.
"This has been extended to directors of the Scottish FA, whose private details have been published on internet sites and who have, themselves, been victims of abusive communication.
"This culminated tonight in a visit by Strathclyde Police, who are taking seriously the threats made towards the individuals involved. We are thankful for their advice and support in these matters."
Strathclyde Police declined to comment on the situation although confirmed officers had held discussions with the SFA.
Earlier this week the judicial panel fined Rangers £160,000 and placed a 12 month player registration embargo on the club for several rule breaches, including bringing the game into disrepute.
The panel also fined owner Mr Whyte £200,000 and banned him from "any participation" in Scottish association football for life.
In an interview given to Rangers TV, the club's official online channel, manager Ally McCoist demanded to know who the people were that decided on the club's punishment for the rules breaches.
IN DETAIL