Over £9m in aid for Malawi announced by Scottish Government
Holyrood has invested more than £37m in aid for Malawi over the last decade.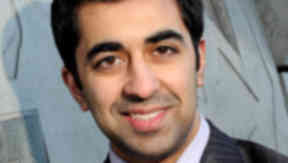 More than £9m of Scottish Government funding will help improve the lives of some of the poorest and most vulnerable people in Malawi, international development minister Humza Yousaf said.
A total of £9,245,384 is being made available over the next three years which will help projects working to improve health education, economic development and renewable energy in the African country.
Ministers have already invested more than £37m in aid for Malawi over the last decade.
The latest round of funding, which covers the period 2015 to 2018, will help support 17 Scottish organisations working in the country.
Mr Yousaf said: "Our continuing support for Malawi reflects the special and enduring relationship our two nations have enjoyed for many decades.
"The projects we are funding over the three years to 2018 will continue to improve the lives of some of the most poor and most vulnerable people in Malawi.
"The people of Scotland can be proud of their role in making this happen."
Organisations that will receive Scottish Government funding for their work in Malawi include the Yorkhill Children's Charity, the Meningitis Research Foundation, NHS Lothian, Christian Aid Scotland, Oxfam Scotland and the University of Strathclyde.
Projects that will be supported include efforts to improve breast cancer treatment and maternity and child health services, as well as health initiatives aimed at reducing unnecessary blindness.
Schemes that provide school meals, improve numeracy and literacy, tackle youth unemployment, boost food production and provide access to energy will also benefit.
The international development minister met consultant oncologist Dr Ewan Brown, who is project lead for the Edinburgh Malawi Cancer Partnership, during a visit to the Western General Hospital in Edinburgh.
Afterwards, Mr Yousaf said: "Over the last ten years through the Malawi Development Programme, Scotland has made a real and lasting difference to the lives of many of our friends in Malawi.
"Our contribution has helped to deliver around 70 projects that have, among other things, supported midwives to safely deliver babies, improved children's access to access vital education, increased access to energy and helped people to find work to support their families out of poverty."
He added: "Funding new projects is especially important given the recent devastating floods that the people of Malawi are dealing with.
"We must not forget the hundreds of thousands who are still at risk while we are building for their long-term future.
"Scotland is a good global citizen, committed to contributing to the international community, opening up horizons and having a positive influence across the globe.
"From the start of our international development programme, Malawi has been by our side.
"Through our unique partnership, we have benefited from having Malawian friends at hand and Malawians have shared in our knowledge and skills."
Dr Brown said: "We are extremely grateful to have further funding support which will allow us to develop our partnership with the oncology team at Queen Elizabeth Central Hospital in Blantrye, Malawi.
"This investment will help us to continue to make a real difference to cancer services for patients in Malawi."