Scotland Tonight: Spotlight on Scots photographer David Eustace
Renowned photographer to open new exhibition in Edinburgh.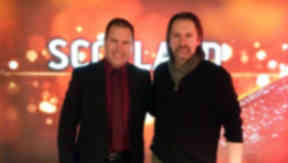 Renowned Scottish photographer David Eustace is about to open the first exhibition of contemporary photographs at one of the country's oldest galleries.
The Scottish Gallery in Edinburgh is to host Mr Eustace's first major show in Scotland for 15 years and will comprise around 50 images, which for the first time — which will be available to the public as limited editions.
Born in Edinburgh and raised in Glasgow's East End, Mr Eustace had a variety of jobs before he became a photographic artist, including working as a prison officer for 8 years at notorious HMP Barlinnie.
At 28, he picked up a camera for the first time and this interest soon became all consuming.
The following year he was accepted to study photography at Edinburgh Napier University.  Before graduating, he was already receiving commissions and soon he was regularly contributing outstanding work for GQ, Vogue and The Sunday Times.
The photographer is primarily drawn to portraiture, travel and landscape. Regarded as a photographers photographer, his work has been described as direct, honest and devoid of gimmick. 
He joined Scotland Tonight to discuss his new exhibition.