Hundreds attend ceremony as Dutch town honours Scottish soldiers
The ceremony on Saturday morning saw the bridge in the town of Gennep renamed The Highlander Bridge.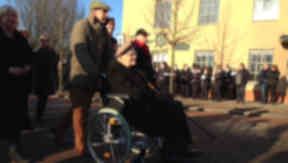 Hundreds have attended a special ceremony in a Dutch town to honour the Scots soldiers who liberated it from the Nazis.
The ceremony on Saturday morning saw the bridge in the town of Gennep renamed The Highlander Bridge.
The new name comes from the 51st Highland Division, who fought over the bridge 70 years ago during the dying months of the Second World War in 1945.
Three veterans who were part of the battle on the Dutch-German border attended the official ceremony, along with around 500 locals and dignitaries.
Black Watch veteran Dr Tom Renouf, from Musselburgh in East Lothian, said: "I think it's wonderful. I think the locals think it's a little bit late but better late than never."
The 90-year-old continued: "We're very grateful to the bürgermeister (mayor), the aldermen, and all the people of Gennep and it's something to be very proud of."
Former Gordon Highlanders infantryman Bill Robertson, 88, from Haddington in East Lothian, was also present.
Ken Thiis, a 91-year-old veteran of the Middlesex Regiment, drove from Liverpool to attend the ceremony.
A total of 49 British soldiers died during the fighting in Gennep.
By February 1945 Allied forces battling their way through the Netherlands had pushed the Germans back to their own border.
A major offensive was launched to clear the German forces in the Rhineland, freeing the way for the crossing of the Rhine.
The northern part of the offensive was codenamed Operation Veritable and involved mainly British and Canadian troops, among them the 51st (Highland) Division and 15th (Scottish) Division.
Close to the Dutch-German border, Gennep was a key strategic objective in the first phase of the battle which was launched on February 8.
The town had been occupied for nearly five years.
Its inhabitants were evacuated in late 1944 after the area was caught up in fierce fighting, but the town remained in German hands.
On the February 11 the 5th Battaltion the Black Watch was ordered to take Gennep, facing fierce resistance as it fought its way into the town.