Blood inquiry calls for hepatitis C tests for Scots treated before 1991
The Penrose inquiry also found the collection of blood from prisoners was a major factor in the contamination scandal.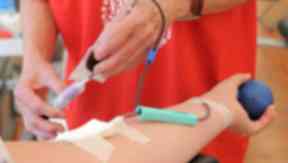 Scots who had a blood transfusion before 1991 should get a hepatitis C test after a public inquiry into contaminated blood.
Prime Minister David Cameron has apologised to victims of the blood contamination scandal, which he described as a "tragedy", and will offer £25m for compensation.
The findings of the inquiry into how people were infected with hepatitis C and HIV from contaminated blood have been revealed.
Hundreds of people in Scotland, many of whom were haemophiliac patients, were given the contaminated blood and blood products by the NHS in the 1970s and 1980s.
Following demands from campaign groups, an independent public inquiry was set up by the Scottish Government to investigate what went wrong and what lessons could be learned.
The findings of the inquiry by Lord Penrose were released on Wednesday and recommended the Scottish Government offer a hepatitis C test to everyone in Scotland who received a blood transfusion before September 1991.
Shona Robison, secretary for health and wellbeing, accepted the report's recommendation that steps should be taken to offer the blood tests.
A total of 478 people were infected with hepatitis C as a result of treatment for a bleeding disorder with 2500 people infected as a result of blood transfusions.
Mr Cameron said at Westminster it was "right to recognise the suffering of those affected" and said sorry on behalf of the government for something which "should not have happened".
Bill Wright, from Haemophilia Scotland, branded Mr Cameron's comments and offer of £25m a "damned insult" and there was anger from victims' families as the findings were announced on Wednesday.
One of the main factors of the infections was the collection of blood from prisoners, which was branded "inadvisable" and should have been stopped earlier.
The report also highlighted the "forgotten suffering" of clinical staff who discovered the treatments they thought would help caused patient to become infected "with life-threatening conditions".
Families were angered by the statement and shouted "whitewash" as Maria McCann finished reading the chairman's statement as the inquiry findings were unveiled.
The final report states: "The inquiry concluded it is unfortunate that the Scottish National Blood Transfusion Service did not consider the issue until 1982, but given the limitations in the information available at that time it is not clear, however, that earlier consideration would have stopped the practice."
Secretary to the inquiry, Maria McCann, delivering the statement on behalf of Lord Penrose, who is seriously ill in hospital, said: "We would like to express our condolences for those who have lost loved ones and sympathy to those struggling to continue living with the consequences of infection."
She added: "How this tragedy happened in the course of NHS treatment was a source of serious public concern. The testimony of witnesses who were infected was "profoundly moving."
As well as recommending hepatitis C tests, the report added that more should have been done to screen blood and donors for Hepatitis C in the early 1990s.
However, it was found that nothing more could have been done to prevent the transmission of HIV. The collection of blood from prisoners should have stopped sooner, as this was identified as an area of "particular concern".
The report also found that infected patients were not properly made aware of of the risks due to a "paternalistic attitude" of doctors at the time.
The inquiry, chaired by Lord Penrose, got under way six years ago, cost around £12m and went on to hear evidence from 60 witnesses over 89 days. Its full findings, which run over a number of volumes, were revealed at an event in Edinburgh on Wednesday.
Lord Penrose commented: "The terms of reference only intimated the direction of the investigation: it is the evidence which dictated the necessary journey and the time it would take.
"This was always going to be an Inquiry about what happened in the past as opposed to a commentary on current practice with recommendations for change.
"For people infected by HIV/AIDS and/or Hepatitis C, the impact on their lives and the lives of their loved ones has often been devastating.
"I would also comment on the often forgotten suffering of clinical staff, who discovered that the treatments they thought were beneficial to patients actually caused them to become infected with life-threatening conditions.
"They too have been affected, especially when accused of knowing or deliberate attempts to harm patients."
The Penrose Inquiry, which has cost millions of pounds, came to an end in March 2012. It had been due to report the following year but suffered delays along the way.
Ms Robison added: "On behalf of the NHS and Government in Scotland I would like to say sorry to everyone who has been affected by this terrible tragedy. We recognise just how catastrophic this was for everyone affected.
"While this was a UK – indeed international issue – I hope that today's report means that those affected in Scotland now have at least some of the answers they have long called for.
"I will meet families and those affected today to personally express that apology, and to talk about our response to the inquiry report. The First Minister will confirm that apology on behalf of the NHS and Government in Scotland in Parliament tomorrow, and I will make a full statement in the chamber tomorrow afternoon.
Feedback: We want your feedback on our site. If you've got questions, spotted an inaccuracy or just want to share some ideas about our news service, please email us on web@stv.tv.
Download: The STV News app is Scotland's favourite and is available for iPhone from the App store and for Android from Google Play. Download it today and continue to enjoy STV News wherever you are.
Join in: For debate, chat, comment and more, join our communities on the STV News Facebook page or follow @STVNews on Twitter.
Updates: Would you like STV's latest news update in your inbox every morning? Choose from our range of regular e-newsletters here