First edition of Robert Burns' poetry fetches £40,000 at auction
The poet's first collection of work, published in 1786, went under the hammer in Edinburgh on Wednesday.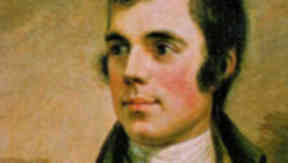 A first edition of Robert Burns' first collection of poems has sold for £40,000.
The Kilmarnock Edition was bought by a business organisation at an auction in Edinburgh on Wednesday.
It is one of only 12 copies still owned by private collectors and will be staying in the Edinburgh offices of the company which has bought it. They will go public at a later date and will allow members of the public to view the book.
A representative from the organisation said: "This book is the most important work in Scottish literature. We have bought it not only as an investment for the future, but will make it available to any organisation or person who may wish to see it. I am happy it will be staying in Scotland and in particular it shall remain in our offices in Edinburgh."
The book was published in an attempt to raise enough funds for Burns to emigrate. He was not making enough money from his farm in Ayrshire and a local lawyer suggested Burns publish some poems to pay for passage to Jamaica.
John Wilson, a printer in Kilmarnock, published 612 copies of Poems, Chiefly in the Scottish dialect on July 31, 1786. They sold out within a month.
Simon Vickers, Book Specialist at Lyon & Turnbull said "After whisky, Scotland's most famous exports are its authors and intellectuals – Sir Walter Scott, Robert Burns and R.L. Stevenson spring immediately to mind. But whereas Scott and R.L. Stevenson are famous for a dozen works or more, Burns's reputation the world over rests on a single volume and it nearly never saw the light of day."
Other Burns items were also sold at the Lyon & Turnbull auction on Wednesday, including a signed letter from his lover Agnes M'Lehose which sold for £7500.