Donald Trump claims Alex Salmond's independence bid is 'gone with the wind'
The US tycoon launches his latest attack on the First Minister over Scotland's wind turbine policy.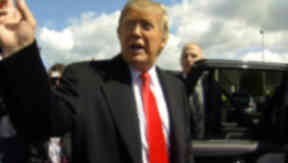 Donald Trump claims Alex Salmond's hopes for independence are "gone with the wind".
In his latest attack against the First Minister, the US tycoon claims that Scotland will "never" gain independence under his leadership because wind farms are destroying the country's tourism industry.
The letter, sent on Wednesday, claims that Mr Salmond is "single-handedly destroying the economic well-being of a great country".
Mr Trump launches the attack the week after he appeared before a Holyrood committee in Edinburgh, looking into Scotland's renewable energy policies.
The businessman is vehemently opposed to wind farms and told the committee he "cannot proceed" with his luxury Aberdeenshire golf resort if plans for an 11-turbine development nearby gets the go-ahead from Scottish Ministers.
Mr Trump told the committee he had been misled by the government and that Mr Salmond had "poo pooed" the planned turbines, and told him not to worry.
In the letter, addressed to "Alex", he says: "You should . . . stop your mad march into oblivion with these very expensive and highly inefficient (and extremely ugly) industrial turbines.
"Focus on hydro, wave or tidal power and other forms of renewable energy like other countries who have abandoned wind power are doing.
"Your idea of independence is 'Gone With the Wind'."
A Scottish Government spokesman said: "Scotland's commitment to renewables is delivering tangible economic benefits with thousands of jobs and tens of millions of pounds of investment being delivered to communities across Scotland.
"Indeed over last year, £750m of new renewable electricity projects began generating in Scotland, while there is a potential future pipeline of renewable electricity projects with a capital value of around £46bn.
"The most recent opinion polls have also demonstrated significant support for wind power as part of our energy mix. Just last week a poll showed support for this policy at 71% and the latest independent research shows that our renewables and tourism sectors both thriving after successful years for both in 2011."