World's most poisonous fish arrives in Scotland to live at aquarium
Staff at Deep Sea World have had specialist training to deal with the stonefish.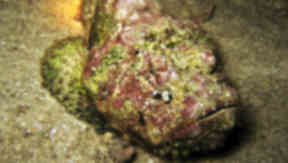 The most poisonous fish in the world has arrived in Scotland as it takes up residence at an aquarium.
The stonefish is so venomous staff at Deep Sea World in North Queensferry have had to have specialist first aid training.
The fish are also known as goblinfish and warty-ghoul, and have 13 jagged spines running along their back. The venom is delivered through the spines, which are so sharp they can pierce through a shoe.
The new arrival had to be transported in a reinforced container and will be kept in a secure special display.
Aisling Thornton from the visitor attraction said: "Swimming with three-metre-long sharks is a walk in the park when you compare it to the potential danger of these little fish.
"Our aquarists are taking all necessary safety precautions and have had to undergo first-aid training. The stonefish will initially stay in our quarantine area before going out on public display next week."
If the stonefish stings someone and they do not have medical treatment they will die.