'Schoolovision' sir scoops international teaching prize
Top honour goes to an East Lothian teacher who created a competition involving kids from more than 30 countries.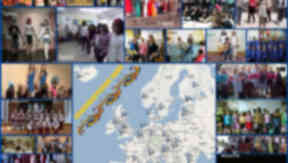 An East Lothian teacher was given 'douze points' by the judges of an international teaching prize.
Michael Purves from Yester Primary School in Gifford, near Haddington, scooped the Global Junior Challenges trophy for dreaming up 'Schoolovision'.
The competition, based on the Eurovision Song Contest, was designed to teach youngsters about other cultures and countries.
Mr Purves found partners from 30 other European countries to take part in the competition and set up on online blog for them all.
Each entrant country then uploaded a video introducing their competitors to their homeland and their way of life, as well as filming themselves singing a song which represented their culture.
The 600 children involved then spent a week judging the musical entries before awarding points to their favourites, Eurovision style, via an international we conference.
The project was judged a great success by all involved, including the youngsters who got the opportunity to learn about other European cultures.
However, Mr Purves was delighted when he learned his project had seen him selected as one of the 109 finalists competing the prestigious Global Junior Challenge.
The competition, created in Rome, is designed to recognise projects and people from across the globe who make innovative use of new technology in education.
Last week, the Yester primary teacher travelled to the Italian city for the final, and was astonished when 'Schoolovision' was voted the outright winner of the under-15s category.
Speaking of the win,  Michael Purves said: "It was a wonderful experience, being invited to the final awards ceremony of this prestigious world-wide competition.
"To actually win it was something I had only dreamed of, so I'm really delighted, both for myself, and all the pupils and partners, who all worked so hard to produce such fantastic results."