Father of missing girl in Edinburgh in hope of finding new information
Father of missing chef hoping for new leads in investigation of his daughter's disappearance.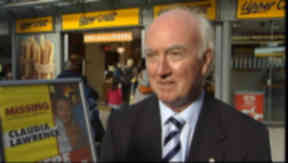 The desperate father of a North Yorkshire chef who has been missing for seven months has travelled to Edinburgh in the hope of finding new information about his daughter's disappearance.  
Peter Lawrence says he will never give up hope of finding Claudia, though police are increasingly convinced she has been murdered.
As he handed out leaflets at the capital's Waverley Station he said despite the fact police are now treating the case as a suspected murder, he is not giving up hope of being reunited with the 35-year-old.
He said: "I understand why police are doing that, its a criminal investigation so they're hoping to persuade people to talk to them but I believe Claudia's still alive until such time as she's found dead. She is alive."
Watch extended video interview with Peter Lawrence here>
The hunt for Claudia Lawrence was the biggest missing person inquiry ever undertaken by police in North Yorkshire. They have searched 240 properties, taken hundreds of witness statements and even flown to Cyprus, one of her favourite holiday destinations.
She was last seen on March 18.  
Peter Lawrence added: "Every day at times when I'm on my own going out for a walk, I live in the country, or going swimming or just being on my own at home, I obviously think of Claudia and there's a big hole in my life."
It has been more than 200 days since Claudia Lawrence went missing. Despite being physically and emotionally drained Peter Lawrence will continue to raise the profile of this case.