Man jailed for attacking wife with corkscrew
Woman left fighting for her life after being stabbed in the face with a bottle opener during a horrific attack in East Lothian.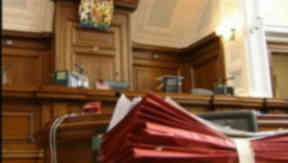 A man who ripped out part of his estranged wife's cheek with a corkscrew and left her permanently scarred has been sentenced to six years behind bars.
At the High Court in Glasgow on Thursday, Ian MacLeod was also told he would be monitored for two years after his release from prison.
Jailing MacLeod, temporary judge Michael O'Grady QC told him: "You have pleaded guilty to an appalling crime - a savage and brutal attack on a defenceless woman.
"It is clear you intention was to maim. I can't see any other reason.
"A report compiled on you says you have significant issues to address and until these are addressed you will continue to pose a risk."
MacLeod attacked his estranged wife Debra McLeod after turning up at her home in East Lothian to try for a reconciliation.
At an earlier hearing, the court heard the 52-year-old had already apologised for an earlier assault which led to him being fined. However, after trying to make up with his wife, he launched another vicious attack, pinning her to her floor and slashing her face repeatedly with the bottle opener.
MacLeod was originally charged with attempted murder after the horrific assault at the Thurston Manor Holiday Park in Dunbar. However, he pleaded guilty to a lesser charge of assault to the danger of life at the High Court in Edinburgh last month.
At a previous hearing, the court heard he had been fined £100 and told to pay £50 compensation after assaulting his wife and her two daughters two months before the near-deadly corkscrew attack.
After pleading with his wife to forgive him and get back together, they spent a few days together in Blackpool before Mrs MacLeod returned to her home in East Lothian.
However, on August 8, Mr MacLeod turned up at her home with a suitcase while his wife was out and got into her bed.
Advocate depute Morag Jack said Mrs MacLeod went to sleep in the spare room - taking a pair of scissors and a panic alarm with her.  The following morning, she was getting ready for work with her husband in the lounge with his back to her.
"He turned without warning, grabbed her by the throat, put her to the ground and started squeezing her throat."
MacLeod punched the terrified 46-year-old in the face up to 15 times before rummaging through a cutlery drawer and announcing: "This will do."
As she tried to crawl to safety he turned her over and she saw a corkscrew in his hand before he began slashing at her face.
"The pain from these stab injuries was intense and again there were multiple blows to her face."
MacLeod then left, walked calmly to his car, and drove away.
Ms Jack said "Mrs MacLeod was bleeding heavily from her face, had a large hole in her left cheek and her eyes were almost swollen shut." A nurse who lived nearby saw her staggering down the street and intervened to stop her choking on her own blood.
MacLeod eventually turned himself in to police two days later and was arrested.
The judge was told: "Mrs MacLeod faces ongoing medical treatment and more operations in the coming year."