Mother-in-law gives new kidney for Christmas
East Lothian man given a new lease of life following pioneering surgery at Edinburgh's Royal Infirmary.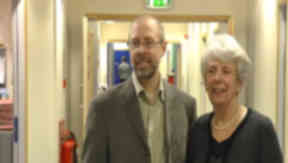 A family from East Lothian are celebrating after Dad received the ultimate Christmas present from his mother-in-law - a new kidney.
Alex Proudfoot had been on kidney dialysis and was seriously ill when his wife's mother, Ann Watt, offered to step in as a donor.
The pair did not share a blood type, but pioneering surgery at Edinburgh's Royal Infirmary saw Alex receive Ann's kidney anyway.
It is the first time surgeons in Scotland have performed a transplant between an unmatched donor and recipient and doctors say the success of the operation could offer hope to many other families across the country.
Alex said he was grateful, but concerned, when Ann offered to undergo tests as a potential donor.
He said: "At that stage, my health meant that I was really, almost, desperate. I really was feeling quite ill, I had absolutely no energy, I was feeling cold, so I was looking at any possible option.
"Obviously, with a member of your family, you have general concerns. You don't really want to see anybody going through an operation like that. But I'd been reassured by the doctors that the person who donates the kidney, apart from the general health issues immediately after the operation that they soon recover from, there was no real danger to them. At that point, I felt generally reassured."
Doctors decided to try to transplant one of 65-year-old Ann's kidneys into Alex, despite their blood types not matching.
Ann told STV news she was delighted to be allowed to help. She said: "As time went on and Alex went on dialysis and became more and more ill, the idea became more and more definate in my mind, that this was what I wanted to do, to help the whole family as well as to help Alex.
"I could see that Alex was becoming less and less well and that my daughter was under more and more strain as time was going on and Alex was unable to help her about the house. And to help the children as well, to make them a family unit again.
"We were in the same high dependancy unit and we were apparently in adjoining theatres. And apart from being in severe pain, which I can't deny, I was glad I had done it and just hoped it would all go well and that Alex wouldn't reject the kidney."
Returning to visit his surgeons at the ERI following his recovery, Alex said the operation had had an immediate impact on his life.
He said: "When I recovered and came out of the anaesthetic, although I was on extreme painkillers, I did feel well. I could immediately feel some soft of benefit, possibly the fact that my blood was starting to be cleaned, and I felt warmer really.
"It took a few days for the painkillers to wear off but once I got out of that, I actually felt great. For me, it had been a big, life-changing operation and from what I felt before to what I felt immediately afterwards, it was a massive change.
"Now, I'm looking forward to next year, that start of a new year and starting to plan a new life really, with my children and with my family. It's been marvellous really, and a great gift for Christmas for me and for my whole family."