Four guilty of casino murder bid
Gang facing jail for their role in plotting the failed shooting of a businessman in Edinburgh.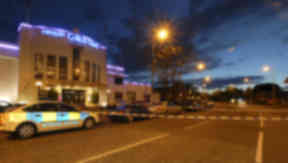 Four men are facing prison after being found guilty of plotting to murder a businessman outside an Edinburgh casino.
Anthony Demarco was shot in the head at point blank range outside the Gala Maybury casino in June last year, but survived when the bullet ricocheted off his skull and lodged in his cheek.
On Tuesday, 35-year-old Imran Sakur, 25-year-old Jamie Robertson, 35-year-old Craig Kelbie, and 39-year-old Francis McGlone were all found guilty of conspiracy to murder and attempted murder.
The High Court in Edinburgh had heard how Sakur laughed and joked with Mr Demarco just minutes before the shooting in the nightspot's car park.
CCTV then showed him walking away with his mobile phone to his ear, the signal for hired hitman Jamie Roberston to pull the trigger. Robertson then escaped in a getaway car driven by Francis McGlone.
The court also heard how, in the days leading up to the shooting, Sakur tried to distance himself from the plot by relaying his messages through accomplice Craig Kelbie's phone.
Eye-witnesses in the Maybury area gave widely differing descriptions of the gunman and picked out the wrong man at identity parades, however, detectives who set up "Operation Muster" were left with two vital pieces of evidence.
A trawl through hours of security camera film showed McGlone's car driving around the casino in a suspicious way and even revealed the number-plate. A painstaking police search also found a spent cartridge lying in the road.
The motive was said to be debts owed to Mr Demarco.
Sakur told police: "That is not me. I don't owe him a penny. Ask him yourself." And during the trial he claimed it was another man, Shahid Aslam, who owed Mr Demarco hundreds of thousands of pounds and wanted him dead.
In court, Mr Demarco also repeatedly denied that Sakur owed him money. Other witnesses spoke of Sakur's money worries and named Mr Demarco as one of his creditors.
The court heard Sakur's high-rolling gambling had cost him £40,000 at the Maybury casino. Mr Demarco, who described himself as a sandwich bar owner, was supposed to be putting Sakur under pressure over the cash.
Re-living his ordeal in court, father-of-two Mr Demarco, said: "I don't know who shot me."
He told the trial: "As I went to open my car door I heard a bang and felt a thud behind my ear, my right ear.
"I turned. I tried to get away from the pain while clutching my head, then walked round the car to the pavement."
He said he had been taken to hospital and added: "I was told I had a gunshot wound at the back of my right ear and it had lodged in my cheek."
Medics told him it was too dangerous to remove the bullet because it was so close to the carotid artery and important nerves, so it remains lodged in his face.
Labourer McGlone and bricklayer Robertson, both from Paisley, and property developer Sakur and unemployed panel beater Kelbie, both from Dundee, face sentence on February 9 in Kilmarnock.
All were found guilty of conspiracy to murder and attempted murder - by majority in the case of Sakur and McGone and unanimously for Robertson and Kelbie
Lothian and Borders Police said their convictions represented the culmination of a long and detailed investigation.
Detective Inspector Bobby Deas said: "This was without doubt a challenging case, and it is thanks to diligent detective work carried out by all those involved with the inquiry, assisted by our colleagues and partner agencies throughout the UK, that we have secured these convictions.
"These individuals were engaged in a cold-blooded conspiracy to murder, and it is clear by their actions that they are dangerous men, with little regard for the sanctity of human life.
"There is no place for such individuals in modern society, and this verdict sends a warning to anyone who engages in such serious criminality that they will relentlessly pursued by the authorities until they are brought to justice."