Lothian swine flu patient dies
Government confirms H1N1 death takes Scots toll to 67.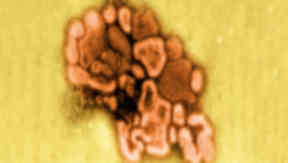 An adult from the Lothians has died after contracting swine flu.
The Scottish Government confirmed the death on Wednesday, bringing the total number of H1n1 deaths in Scotland to 67.
The patient had underlying health conditions.
Health Secretary Nicola Sturgeon said: "Unfortunately we have had confirmation of another H1N1 related death. My sympathies are with the patient's friends and family at this time.
"I would like to encourage everyone who is offered a vaccine to come forward and take it. We have seen tragic consequences of people with underlying health conditions developing complications from H1N1 and the best protection against this is vaccination."
Patients will flu-like symptoms are advised to seek advice from their GP or NHS 24 on 08454 24 24 24.
Further information on the H1N1 jab is available from the Scottish Swine Flu Vaccination Helpline on 08000 28 28 16.