Fifers reassured over 'piranha' sightings
Experts identify mysterious fish in Forth as harmless Ray's bream rather than marine meateater.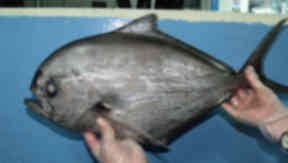 Fifers are being reassured that a bizarre-looking fish spotted in the Forth is not a deadly piranha.
Dozens of the razor-toothed creatures have been spotted in the water in recent weeks, prompting concerns of a dangerous newcomer in Scotland's waters.
However, experts have now identified the mysterious shoals as harmless Ray's bream.
Staff from Deep Sea World were called in when one of the fish was washed up on the beach at North Queensferry. The fish can measure up to a metre and are normally found in water up to a kilometre deep.
Workers at the aquarium now believe the creatures may have followed their prey inshore.
Deep Sea World's Michael Morris said: "In the last few weeks a number of Ray's bream have been spotted in the Firth of Forth and there has also been another specimen washed up at Torness.
"We've had reports of many more washing up along the north east coast of England and in other parts of Scotland.
"They're fascinating looking fish and have been compared in appearance to piranhas because of their rows of razor-sharp teeth. However they pose no threat whatsoever and are not a danger."
The fish are also known as Atlantic pomfret and can weigh more than five kilograms.
However, Mr Morris said: "They're actually found from the Mediterranean up to Scandinavia although do not usually travel close to shore. Periodically they wash up in large numbers on our coastline.
"No one is entirely sure why but they do appear to migrate in small shoals in response to changes in sea temperature. It may be that they come inshore while following large shoals of smaller fish or other prey."