Hundreds turn out for Edinburgh schools rally
Pupils and parents have been protesting outside the City Chambers ahead of Thursday's Council vote on education cuts.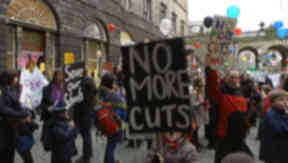 Hundreds of parents and pupils from schools across Edinburgh held rally in to protest over proposed education cuts on Tuesday.
The event on the Royal Mile was organised ahead of a City Council vote on plans to reduce school spending by £2 million.
City leaders say they have worked hard to minimise cuts to education as they try to make savings of £27 million over the next year.
Officials had initially proposed slashing every school's individual budget by 2.5% but the cuts have been scaled back. Councillors will now vote on plans to reduce the £200 million education budget by one percent.
However, protesters fear that the number of learning assistants employed across the city will be massively reduced if councillors back the plans on Thursday.
They are also concerned that financial cutbacks will signal an end to the employment of specialist music, drama, art and PE teachers.
On Tuesday afternoon, hundreds of parents and pupils gathered outside the City Chambers to ask councillors to think again.
City Education Leader, Councillor Marilyne MacLaren, said she was sympathetic to their concerns.
However, she insisted she had done everything possible to limit the effect of cuts on standards in the city's schools.
She said: "I have been working to reduce the impact of this difficult financial situation on on our schools since we received officer proposals in November.
"Last year we protected schools from cuts and I am pleased that this year we have been able to bring savings down to just one percent, which is far less than in other areas of the Council.
 
"We will also increase the school supplies and services budget for the second year running by £250,000 - an important budget which had been neglected for ten years."