Campaigners fight to save city community centre
The Gorgie Memorial Hall is one of six facilities set to close under council cost cutting plans.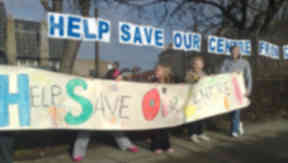 The closures were approved by councillors in the annual budget last week in a bid to make efficiency savings of around £120,000.
But the families who make use of the Gorgie Hall, known locally as the Mem, say it's loss would be devastating.
Chloe was one of dozens of young people playing in the centre's garden on Thursday. The 11-year-old said: "It's not fair because I've been here for my whole life and there are kids here who still have the chance to experience it the way I have. And it's been so much fun.
"I might be leaving this year but my Gran says that are some things that are hard to forget and other things that you can't forget and I think this is is one of those things."
Officials insist the services provided in Gorgie, Colinton Mains, Longstone and Sighthill, as well as at the Number Shop and Platform community centres, will still be provided in new 'community hub' accomodation.
However, volunteers and staff at the Mem says the replacement facility at Tynecastle High is too small for their classes and equipment.
The Mem provides community sessions in yoga, art and kickboxing. Local pensioners use the centre to play bowls while drop in sessions provide valuable socialising opportunities for local parents and children.
Aiden Murphy is from Ireland and his wife is a New Zealander. They moved to Edinburgh shortly before having their baby daughter and he says the centre has proved invaluable to his family.
He said: "When I came here initially with my little girl, I felt isolated as a stay at home parent. But by word of mouth, I found out about Gorgie War Memorial Hall and when I came here, it was just a lifesaver for me. Because it means we can get out of the flat, whether it's a good day or a bad day, and get down here for a few hours and she gets to run around and mix with other children.
"She's come on leaps and bounds since she came here. I come here now, Monday to Friday, twice a day just to give her time to mix with other kids."
He added: "Because we don't have family here, we didn't really have a support network to look after us. So by coming to the centre, we've not only got support but we've also made new friends.
"We're not just people who are commuting from our home to work each day but we're part of the community and we've been welcomed in so it's absolutely great."
Staff and volunteers at the Mem have now vowed to fight to retain the facility and have set up a petition to garner local support.
Tracey McKellican works as a childminder at the Mem and also serves as Committee Secretary. She said the centre is used by people from a wide range of cultures and nationalities, allowing both children and adults to integrate with others in their area.
She told STV News: "It makes me really sad because they're taking something that's in the heart of Gorgie out of the community. It's been here for years and years, in fact, it's 128 years old and it's been used for many things throughout the years.
"My partner came here as a kid and I was speaking to man yesterday who was signing the petition, he was in his seventies and he said he'd met his wife here 50 years ago. So there's a lot of history in the place, aside from the memorium that's up in the hall that was dedicated to the men who fought in the First World War.
"I would hope they would erect that somewhere else but it's quite sad that we could lose that too."
Edinburgh City Council insists the closures are necessary to cut costs. Officials say they are facing their "greatest financial challenge" in living memory as they slash spending by more than £100 million in the coming three years.
Commenting on the Mem campaign on Thursday, a spokesperson for the City of Edinburgh Council, said: "The new Tynecastle High School has a purpose built community wing with three large rooms, large open plan area with reception and office.
"It is anticipated that most of the groups provided within Gorgie War Memorial hall will be relocated to this new facility."