Three in court following Edinburgh SDL demo
Two men to be sentenced for breaching the peace while a third will face trial for allegedly trying to incite violence and disorder.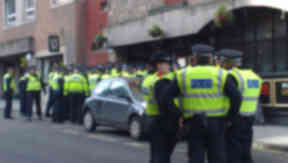 Three men arrested during counter-demonstrations by the far-right Scottish and English Defence Leagues have appeared in court in Edinburgh.
Two of the men were arrested on the city's Royal Mile on Saturday, as a police-approved march by anti-fascism group Scotland United passed nearby. A third was arrested outside the city's Central Mosque.
The official march was attended by around 2,000 people while around 100 were said to have arrived to take part in a counter action by the SDL. However, a heavy police presence kept the two groups apart and only a handful of arrests were made.
On Monday, three men who were arrested in connection with disturbances in the city appeared at Edinburgh Sheriff Court.
Scott Buchan, from Aylesbury in Buckinghamshire, pled guilty to breach of the peace. The 23-year-old was released on bail and ordered to report to his local police station in England every week until he is sentenced.
Fiscal Depute, Graham Fraser, told Sheriff Derrick McIntyre: "As you may be aware, there was a public order situation in Edinburgh on Saturday because of a rally by the Scotland United group and a counter demonstration by an organisation known as the Scottish and English Defence League."
Mr Fraser said there were concerns about serious disruption and violence and there was a high police presence on the High Street.
Members of the Scottish and English Defence Leagues, who had been drinking in the Bank Bar, were allowed to leave one at a time and ushered away from the area of the anti-fascism march.
However, some remained and started shouting and swearing at the marchers, which Mr Fraser said led to a number of passing tourists and children becoming upset and alarmed.
Buchan had come to Edinburgh to protest and had been among the Defence League group. He bumped into police officers and despite being warned to move away, he repeatedly walked into the road and tried to stop the traffic. He was also said to be making challenging signs to marchers.
Mr Fraser added that Buchan was being supported by friends and colleagues and did not respond in any way to police requests to stop his behaviour.
He said: "This is a very busy street in the centre of Edinburgh with a significant number of tourists even at this time of the year and it was an unattractive and unpleasant experience for them.  He clearly intended to cause disruption".
Defence solicitor, Peter Winning, confirmed Buchan had come to Edinburgh for the protest, saying: "He has to accept he behaved in an unacceptable manner."
Sheriff McIntyre said: "This was a very sensitive situation", and deferred sentence on Buchan for background reports.
Also appearing in court on Monday were Graeme Stevenson from Largs and David Parslow from Edinburgh.
Stevenson, 21, is charged with acting in a manner likely to incite violence and public disorder, by shouting, swearing and refusing to leave the pub when instructed by officers.
He denied the charge and was released on bail on the condition that he does not attend any SDL or EDL demonstrations.
Local 52-year-old David Parslow admitted a breach of the peace charge for shouting and swearing outside the Edinburgh Central Mosque. He was bailed until later this week, when the details of his case will be heard in court.