Twitter scam leaves MP Willie Rennie red faced
EXCLUSIVE: The Lib Dem sent a sexual message to around 4,000 people after falling prey to a phishing scam.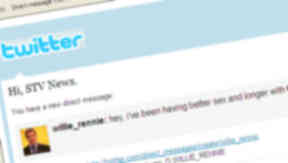 Dunfermline and West Fife MP Willie Rennie has become the latest politician to fall prey to a Twitter scam which led to him sending a sexual message directly to thousands of followers.
The Lib Dem member's Twitter page said: "Hey, I've been having better sex and longer with this here", alongside a web address.
Mr Rennie told STV News that because his Twitter account was linked to his other social networking accounts, the message was sent to around 4,000 people, including local volunteers and school parents.
He said: "I've had lots of reaction and they say no publicity is bad publicity, but it's been a bit embarrassing.
"Thankfully, everybody has taken it in good humour really. Some people were completely oblivious and others found it quite funny. I was at a Parent Council meeting before it was posted and one lady replied asking me if it had been the effect of her cake!
"I got about 20 to 25 comments on Facebook and half a dozen on Twitter, but there don't seem to have been any Mr Angry comments. Thankfully, I think people realise it's a hacking thing.
"But it does show how easy it is, potentially, to have your account hacked into. This one is obviously a scam which we've found out about, but you worry that next one could be more subtle and potentially more dangerous. My password is certainly much more secure now."
Follow STV News on Twitter here >
Mr Rennie is the latest in a line of politicians to be left red faced by the scam, which is thought to have affected thousands of people.
Climate Change Secretary Ed Milliband's account made the same sexual claim as Mr Rennie's, leading him to post: "Oh dear it seems like I've fallen victim to Twitter's latest 'phishing' scam."
On Thursday, Harriet Harman revealed her account had been "hacked", resulting in a bogus message to shadow prisons minister Alan Duncan.
And on Friday morning, Glasgow South MP Tom Harris wrote a blog entry, joking about a sexual proposition he had received from a friend as a result of the scam. Just a few hours later, he appeared to fall prey himself, leaving his Twitter entry reading: "Tom Harris MP. Hot, horny, 24-year-old Independent journalist looking for good time..."
Foreign Secretary David Miliband and Business Secretary Peter Mandelson have also been targeted by impersonators, and Twitter officials have now published a warning to users.
A statement on the company's blog reads: "Over the past few days, we've seen an increase in phishing attempts and are working on resetting passwords for accounts that were affected.
"If you receive a direct message or see a message with a phrase like "This you??" or "LOL is this you" followed by a link, please do not click through. There's a phishing site on the other side."
The company urged any users who had clicked on suspicious links to change their password as quickly as possible. The firm has also asked users to alert friends if suspicious messages are begin sent in their name.
The scam has become so widespread that it prompted Deputy Labour Leader Harriet Harman to raise it in the House of Commons.
Ms Harman said there was a "real problem here" and promised to "see what Government ministers might be able to do about this".
She added: "In fact my own Tweet account was hacked into this week - the hon lady doesn't know this, this is not a planted question - and a Tweet was purportedly sent by me widely, which I can assure everyone was not from me."
She added: "I wouldn't ever send a Tweet like that."