'Truman show' town planner turns sights on Lochgelly
VIDEO: Anders Duany, who designed the idyllic Florida film set, is aiming to transform a former Fife mining town.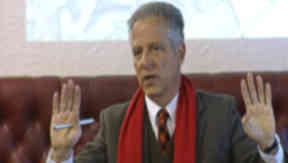 One of the world's most respected urban planners has turned his attention from Florida to Fife as part of a scheme designed to breathe new life into a former mining town.
Anders Duany, who planned the town of Seaside which became world-famous as the setting for hit Jim Carrey movie The Truman Show, is holding a widescale public consultation in Lochgelly. The process, known as a charette, will see Mr Duany and his team spend their days talking to local people about what they need to make their town centre function better for their needs.
Mr Duany insists there will be no Hollywood style transformation, and some of the work could be 25 years in taking effect. He said: "This is a way of designing in the presence of those who will use a place and will live in a place.
"We're drawing the plans in front of their eyes, we're consulting several times a day, probably spending six or eight hours a day speaking to the people. We draw very quickly and very accurately, so we can show the intentions and then people can be very precise with their criticisms or adjustments. So it's a process that's very efficient and very responsive.
"However, what's impossible continues to be impossible. We can't just suddenly bring paradise on earth to Lochgelly. But we do have time - our window is 15, 20 or 25 years off.
"You know, I look at the little children who come to the charette and I think, it's really for them. One of the disciplines of what we do is to remember that the present is almost irrelevant. Whatever is happening now is really not our venue. We're about the future."
Mr Duany's team will spend the next week in Lochgelly, seeing how locals interact with their surroundings. He will engage with the town planners, developers and landowners responsible for bringing promised new homes, businesses and community facilities to the town.
The world-renowned designer says he will also spend the week working out which bits of the town are already functioning and which are not.
However, he insisted Lochgelly does have a chance of a bright future, with close transport links to the capital which could prove a saving grace in the future and a town high street which is still well placed for a revival. He said: "There are several things which have damaged this town, one of which is of course the closing of the mines.
"But there are several things that have not happened here that have hurt other towns. For example, there's no bypass road, so the traffic still goes through the town centre, meaning these shops have a chance. Sometimes when a bypass road is built, people simply start to bypass the town and the High Street really does disappear. In this case, I think we can revive the High Street, so that's good.
"The other thing is, there's very little out of town retail competing with the High Street. There are very few shopping centres, there isn't a massive supermarket so we have a chance. We've caught it in time."
Fife Council's Planning Committee Chair, Councillor John Beare, said: "I cannot stress enough how exciting an opportunity this is for Lochgelly and Fife.
"We have the World leading designers coming to the town and an opportunity for everybody in Lochgelly to influence the way we plan our urban and green spaces in the future. This is a once in a lifetime opportunity and we should do all we can to encourage the local community and interested parties to get involved, work together and feed into the process."