Protestors take occupation of Fife open cast mine site
Around 30 environmental activists are building treehouses and camps at the Black Woods site in a bid to halt tree felling work.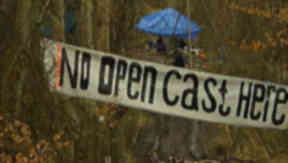 Around 30 environmental activists are working to occupy the site of a controversial open cast coal mine in Fife.
The protesters descended on the Blair House site outside Oakley in Fife early this morning, in a bid to halt tree felling work designed to clear the site for coal recovery. Work to pull down trees on the site began last week and is supposed to be continuing today. However, activists are currently trying to erect treehouses and a base camp in a bid to prevent work continuing.
Fife Police confirmed they had received a call about the protest and officers began arriving at the site at around 9.15am on Monday.
UK Coal plans to mine 720,000 tonnes of coal from the site over a two year nine month period. However, the site of the mine takes in the Black Woods area, which is regarded as a haven for wildlife.
The protestors say they are standing up for more than 150 people who objected to the plans, citing concerns about the environmental and health impacts of the open cast mine.
Ross Jones is one of the people working to occupy the site as part of the Black Woods Solidarity movement. Speaking from the site as police moved in on Monday, he told STV News: "This mine goes against the environmental targets we are supposed to be meeting.
"Our main aim is to prevent more coal being pulled from the earth and burned. However, we also want to help the local community who are against this move, who say they are concerned about the impact it could have on their health, and on the local wildlife. We want to support those people who opposed this move but have been ignored."
The 25-year-old protestor said staff had arrived at the site to continue felling Birch trees this morning, and were now trying to work around the protestors as they tried to build houses in the trees to prevent them being pulled down.
**IN DETAIL
**
Fellow protestor Fiona Richards said: "This new coal mine is only one of 20 such others to have recently been given planning permission in Scotland.
"If we are to have any chance of limiting dangerous climate change and protecting communities from carbon-intensive industries, direct action must be taken as councillors, mining companies and the government have shown their unwillingness to solve the problems we face."
Fife Police confirmed they were on site, but said there had been no trouble. Chief Superintendent Brian Plastow said " This appears to be a peaceful protest and there has been no impact on the local roads or public.  We will continue to liaise with the protesters and monitor their actions"  
A number of the protestors currently working to take over the Fife site are the same ones as took occupation of the Mainshill open cast site in South Lanarkshire last year. The group held up work on the site for seven months, before being evicted early this year. It took five days to clear the site of protestors and 45 arrests were made.