Ian Rankin blasts tram portrait
The author hit out after Edinburgh Council chiefs used his face on a special tram design without his permission.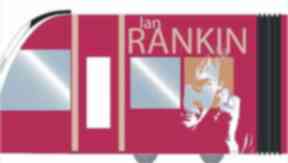 Best-selling author Ian Rankin has hit out at the decision to use his image to promote Edinburgh's controversial trams scheme.
Edinburgh City Council unveiled plans to brand two special trams with the faces of famous Edinburghers on Tuesday. The aim is to showcase the city's cultural and scientific heritage by using images of people including Shirley Manson, Alexander Graham Bell, JK Rowling and Mr Rankin.
However, by Wednesday, Mr Rankin had hit back, insisting he is not a supporter of the trams and should not have been included.
The author used the social networking site Twitter to say: "Hmm … I wish they'd asked permission to put my mug-shot on the tram mock-up, or at least digitally aged me 10-20 years (tram-line ETA).
"Actually saw the mock-up pic in dentist's waiting room. Dentist came out to see who was making the teeth-gnashing sounds."
Tram chiefs responded by insisting that they had not asked Mr Rankin's permission because the designs they had unveiled were "concept designs only".
A spokeswoman for Edinburgh Trams said: "The images for the tram 'specials' are intended to give people an idea of what the vehicles could look like in the future. They are by no means final designs and we have not yet approached living people to seek permission to use their likeness.
"However we do hope these concepts inspire people into thinking about what the trams will look like once they're up-and-running."