Woman dragged behind car after refusing to let go of Louis Vuitton bag during robbery
UPDATE: Victim needed hospital treatment after her designer handbag was pulled through the window of a car which was then driven off at speed.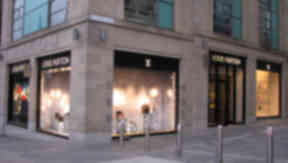 A woman needed hospital treatment after being dragged behind a moving car while attempting to hold onto her Louis Vuitton handbag during an attempted robbery in Edinburgh city centre.
The 22-year-old was walking on St Mary's Street at around 9.50am on Tuesday when she was called over to a car containing three men. When she got near the vehicle, one of the men grabbed her designer handbag and the car accelerated.
The woman refused to let go of her expensive tote and ended up being dragged behind the car, before the robber let go and the car sped off.
A police spokesman said: "Thankfully the culprits were unsuccessful in their attempt to rob the victim, however she did receive minor injuries that required hospital treatment, and we are keen for any information that can help us identify those responsible.
"Anyone who was in the area of St Mary's Street and the Royal Mile at around the time of the incident, who has any information that can help our inquiries, should contact us immediately.
"Similarly, anyone who recognises the description of the suspect, or the vehicle, should also get in touch."
The suspect who grabbed the bag is described as white, 25 to 35-years-old, with short dark hair and facial hair. There is no description of the other two suspects.
Their vehicle is described as a dark, five-door hatchback, which was last seen being driven west on the Royal Mile towards the South Bridge junction.
Anyone with information is asked to contact Lothian and Borders Police on 0131 311 3131, or Crimestoppers on 0800 555 111.