Jail for £1m fraudster whose father was shot at casino
Antony Demarco borrowed money from loan sharks he could not repay, then used his financial business to carry out a major theft.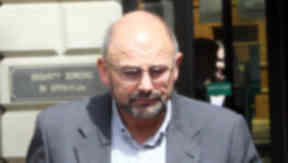 The gambling addict son of a businessman gunned down outside an Edinburgh casino has been jailed, after admitting a £1m fraud.
Edinburgh Sheriff Court heard Antony Demarco borrowed money from loan sharks he could not repay, resulting in his father being shot. Incredibly, 64-year-old Tony Demarco survived, despite being blasted at point blank range outside the Maybury Casino in June 2008.
Four men, Imran Sakur, 35, Jamie Robertson, 25, Craig Kelbie, 35, and Francis McGlone, 39, were jailed for a total of 43 years for their parts in the plot to kill Mr Demarco following a trial at the High Court in Edinburgh in January.
His son, 37-year-old Demarco, was a self-employed finance broker who held a licence issued by the Office of Fair Trading. He formed his scam by applying for loans secured against assets that did not exist and, as an approved asset finance broker, made and submitted false applications for credit loans.
Fiscal depute Gerard Drugan told the court Demarco was snared by a fraud investigator at the Royal Bank of Scotland and was then investigated by Lothian and Borders Police. The court heard when he was interviewed he made full and frank admissions to the police.
The father-of-two from Danderhall, Midlothian, admitted carrying out the scam and obtaining credit loans and commissions amounting to £1,000,000 between July 2008, and July 2009.
Demarco's defence lawyer Joe Mooney said: "Unfortunately he made the decision to borrow some money from the money launderers in January 2008, shortly before his father was shot and he could not repay that. Various threats were made culminating in the shooting of his father in the head.
"He almost knew he would be caught. If his father had not been shot he would not have become involved in these activities and trying to repay the money launderers. He had always been involved in gambling but he had never had to resort to anything like this or anything improper.
"He gambled from the proceeds of what he earned in his business. The family have had to rally around to deal with the implications for his father, who was really an innocent in all of this."
Mr Mooney added Demarco was being pursued through the civil courts for the money owed, but was bankrupt. He added that substantial sums of money were repaid subsequent to the shooting.
Mr Mooney also appealed for Demarco, who the court heard is attending Gamblers Anonymous, to be placed on bail, insisting he had adhered to the conditions so far including surrendering his passport and signing on at a police station every Friday. He also submitted a reference letter from Demarco's employers when he first started his high flying career in asset finance as well as from the family solicitor.
The court heard Demarco left the Bank of Scotland in 2004 to set up himself and was given a direct line of credit from Lombard and Royal Bank of Scotland. Mr Mooney described him as having "something of a reputation in the industry".
However, Sheriff James Scott refused bail and deferred sentence for background reports until later this month. First offender Demarco was remanded in custody.
His father, who previously told a court he still had a bullet lodged in his cheek following his shooting, declined to comment as he left court.