New honour for crime writer Christopher Brookmyre
The award-winning Scots author has been given an Honorary Doctorate by Edinburgh Napier University.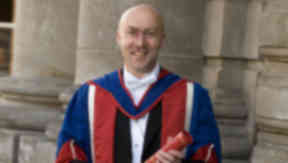 The award winning Scots crime writer Christopher Brookmyre added another honour to his list on Thursday.
The Barrhead-born author collected an Honorary Doctorate of Letters from Edinburgh Napier University on Thursday, and told the 1,700 students at the ceremony he was "surprised, flattered and humbled" by the recognition.
Mr Brookmyre, whose books include 'All Fun and Games Until Somebody Loses an Eye' and 'A Big Boy Did it and Ran Away' said he felt like he had finally been recognised as a genuine crime writer.
And he told his audience at the Usher Hall: "As someone who always sought to write the kind of literature students might save as a less demanding treat for when their exams were over, rather than works that might appear on anyone's curriculum, it gives me quite a glow to receive this kind of academic recognition."
Mr Brookmyre is currently working on his next book, 'Where the Bodies are Buried', which is due to be released next year.
The author was one of a number of notable figures from the arts, academia and business worlds to be honoured by Edinburgh Napier this year.
John Cumming, the former Chairman and Chief Executive of the Anglo-American Insurance Company Ltd, and Scottish entrepreneur and property magnate Mike Rutterford, both collected an Honorary Doctorate of Business Administration while John Sturrock QC, one of the UK's leading mediators, received an Honorary Doctorate of Laws.
The university's Principal, Professor Dame Joan K Stringer, said: "We are delighted to be honouring individuals who have made such significant contributions to enriching our culture, building our economies and servicing our communities in so many ways.
"Their achievements together with their qualities are an inspiration to our students."