Edinburgh Book Festival organisers give a sneak peek at 2010's programme
Pulitzer prize winners, Nobel Laureates, politicians and journalists are among the line-up for 2010.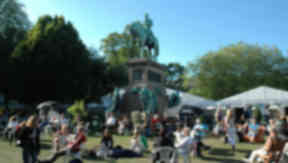 Pulitzer prize winners, Nobel Laureates, politicians and journalists will all feature in this year's Edinburgh Book festival line up.
Organisers of the annual literary event gave readers a sneak preview on Thursday, saying the focus for 2010 would be the "new world order", with the event featuring more than 750 authors from 50 different countries.
The full line-up for August will be unveiled next month, but among the names already revealed are Philip Pullman and Poet Laureate Carol Ann Duffy, who will be previewing her new collection. Seamus Heaney, DBC Pierre and Roy Hattersley will also be giving sneak previews of books published in September.
This year's festival will see the introduction of a new audience award for debut writers, while a mini-festival, to include a mix of readings, music and shows and titled Unbound, will also be staged.
Nick Barley, director of the Edinburgh International Book Festival, said: "I believe that writers are fundamental to our understanding of the world. Away from the barrage of instant news, writers give a more subtle perspective on everything from complex economic problems to personal issues in our day to day lives.
"The Book Festival gives us a wonderful opportunity to bring these perspectives into focus as we look at the world we live in today.
"From an extraordinarily exciting collection of debut authors to our new Unbound evening programme, we are looking forward to exploring a wealth of new talent and ideas."
A total of 47 authors will compete for the Readers' First Book Award after bringing their first UK published novel or short story collection to Charlotte Square Gardens.
Meanwhile, a series of evening debates will reflect the discussions of the the daytime programme. In the first week, a debate chaired by Alan Little will look at geo-politics, focussing on subjects including America, China, the impact of the wars in Iraq and Afghanistan and the shape of Europe after the fall of the Berlin Wall.
Mr Barley said: "This year we will be looking at the new world order, and particularly at the USA's place in this world, with an ambitious survey of American contemporary writing.
"We welcome acclaimed novelists Joyce Carol Oates, Lionel Shriver and Amy Bloom, controversial cultural theorist David Shields and Nobel Laureate Joseph Stiglitz.
"The American strand includes over 45 authors such as Garry Trudeau, whose Doonesbury strip is one of the most published cartoons in the world."
The Book Festival will open on August 14 with Philip Pullman debating his book The Good Man Jesus and the Scoundrel Christ.
The 27th annual event will close on August 30 with Portuguese writer and Nobel Laureate Jose Saramago, who will talk about his work and life.